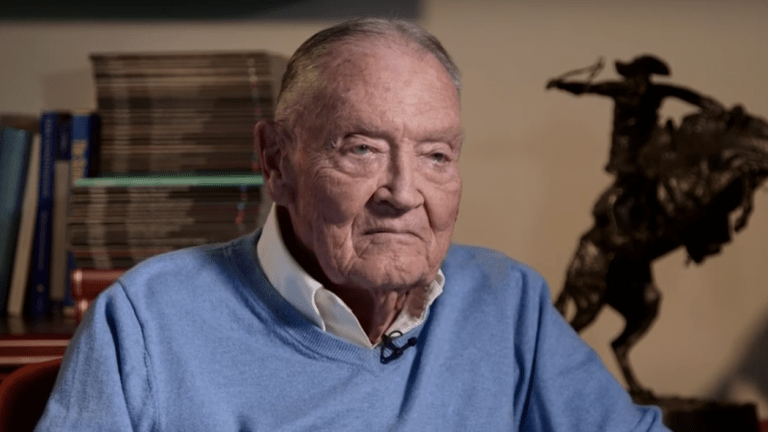 Jack Bogle Will Have To Shake His Fist At Clouds From His Own Cloud Now
The Vanguard Group founder and expert shit-talker has died at 89.
Index-fund pioneer, non-billionaire and magnificently crotchety old bastard Jack Bogle has died at the age of 89. Suffice it to say, the world is a great deal poorer without the man who said a lot of you are basically stealing people's money (not that he was opposed to it from time to time, if asked nicely to do so) and his hot takes. Thankfully, he was able to finish his last book, through which—along with heroic portraiture—he'll continue to inspire young whippersnappers like Warren Buffett for centuries to come.
His reputation as a tightwad was well earned. At breakfast with a reporter in 1993, at a suburban Philadelphia restaurant near Vanguard's headquarters, Mr. Bogle figured out that he would beat the $5.95 cost of the buffet by ordering from the menu. If he had an early-morning meeting in New York, he would take the early Amtrak Metroliner shuttle rather than pay for a hotel room in Manhattan….

Mr. Bogle's retirement did not come easily. After giving up the chief executive title to his handpicked successor, John J. Brennan, Mr. Bogle openly disagreed with several of Mr. Brennan's decisions. A rift developed between them, which contributed to Mr. Bogle's failure to persuade Vanguard's board of directors to allow him to stay on past the traditional retirement age of 70.
John C. Bogle, Founder of Financial Giant Vanguard, Is Dead at 89 [NYT]
Vanguard's Jack Bogle Wasn't a Billionaire. He Was Proud of That. [NYT]