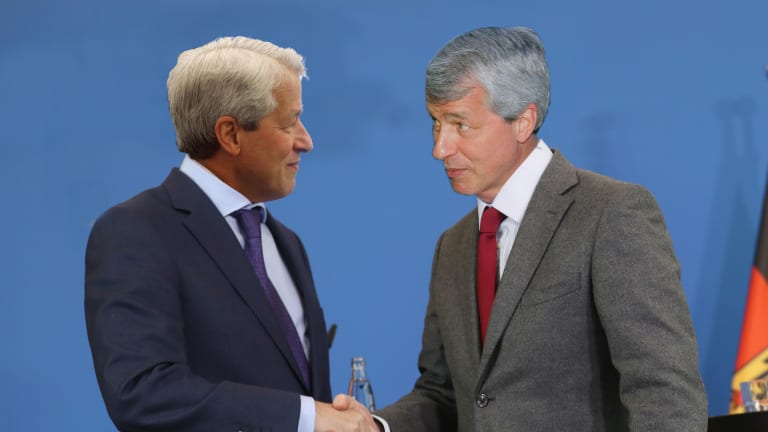 Jamie Dimon's Internal Organs Are Functionally Bipartisan
The 46th President of The United States tells CNBC that his body belongs to both sides of the aisle.
For a guy who claims to have no interest running for president, Jamie Dimon cannot stop saying the kind of things that people say when they're running for president.
Jamie sat down with Andrew Ross Sorkin, Becky Quick and their drunk uncle in Davos this morning to muse about the potential long-term economic effects of the prolonged US government shutdown. Essentially Jamie called for the mercy of logic, saying that both sides of the aisle will have to give up something in order to stave off an economic catastrophe. That opinion provoked an obvious question:
The CEO of J.P. Morgan Chase rarely reveals his political inclinations but, when he asked on Wednesday if he's still "barely a Democrat," Jamie Dimon answered "no" and explained.
Which in turn prompted a hilariously descriptive answer:
"My heart is Democratic but my brain is kind of Republican," Dimon said on CNBC "Squawk Box" at the World Economic Forum in Davos, Switzerland.
We'll just assume that Jamie's pancreas thought Jill Stein had some interesting things to say.
What Dimon was getting at is interesting [how Trump's batshit political hackery makes Trump's tax cuts and deregulation harder to truly savor], but mostly because of how it so accurately describes the sentiment of Wall Street, much of Main Street and a ton of voters in the swing states that will decide the outcome of 2020.
This shutdown is the kind of chaotic inefficient nightmare that keeps financial institutions awake in the dark. It grinds money slower and closer to an agonizing stop with every passing day. Nothing good comes from keeping the government on a forced unpaid vacation, especially considering that it only serves to highlight how many other macro threats lurk on the horizon for the global economy. So it shouldn't be earthshattering to hear the head of America's largest bank say this:
Dimon made a list of what he said the U.S. "can do better as a nation," rather than "just yelling and screaming about other people." Dimon said his list included "getting infrastructure done right," "getting kids apprenticeships to get them jobs," increasing "small business formation" and reforming policies such as immigration, infrastructure spending and taxation.
But in the vacuum of true political leadership that we have right now, it's almost reassuring to watch a banker plead on behalf of bi[artisan American prosperity because it's good for business. Jamie Dimon might not be consciously running for president yet, but that only makes his chances all the better.
Jamie Dimon's politics: 'My heart is Democratic but my brain is kind of Republican' [CNBC]