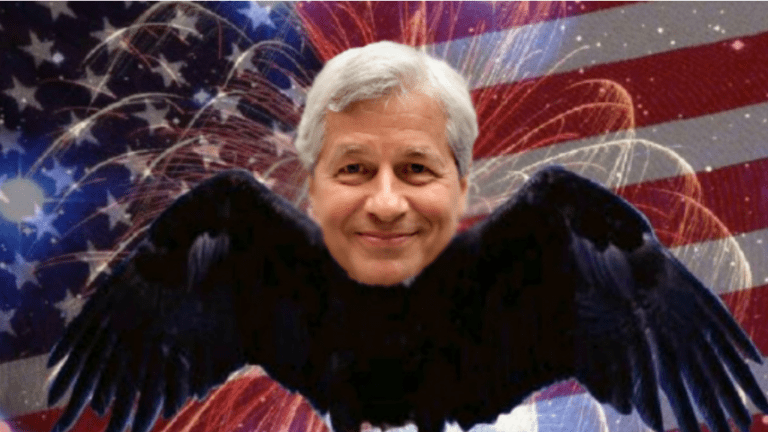 Jamie Dimon, Who Totally Isn't Running For President, Sends An Unsolicited Centrist Statement On Tax Policy To Reporters, Like Any Normal Person Not Running For President
It feels like the Khaleesi of Wall Street is doing all the work of campaigning without actually running.
When freshman Congresswoman Alexandria Ocasio-Cortez went on television and hypothetically proposed a new top marginal tax rate of 70%, a lot of people lost their actual minds. The GOP went even whiter with rage at AOC's insouciant socialism, the left cheered with lusty glee and the center stood agape as Howard Schultz stepped forward to speak for them before getting slapped in the mouth by the narrow group of voters who might have maybe voted for him.
The notion of a 70% tax rate on people making more than $10 million a year has taken on more existential importance, becoming constant fodder for partisan talking points and emerging as the first partisan Rohrshach test of the 2020 election cycle. It's impossible to be a player in this political moment and not weigh in on AOC's tax plan. So everyone who's running is making it part of their stump in some way, and every billionaire who's been near a microphone in the last week has been put in the uncomfortable position of having to answer questions about it without seeming greedy. On the flip side, there is no other reason for a famously wealthy and powerful person to address the 70% marginal rate publicly unless forced to do so in public or in furtherance of a political.
So, we guess we're done here...
Billionaire CEO Jamie Dimon is OK with tax hikes on the rich, as long as the revenue goes where he thinks it'll do the most good.

"Individuals earning the most can afford to pay more, and I have no problem paying higher taxes to address some of the fundamental challenges and inequities in our society," the 62-year-old chief executive officer of JPMorgan Chase & Co. said Wednesday in an emailed statement. He singled out expanding the earned income tax credit as a way to help those who "really need it."
Oh, thanks for that unsolicited thought, "non-presidential candidate" Jamie Dimon. 
What? It's not a totally normal thing for a guy who's not running for political office to just release statements on policy? That's weird, you say? What motive do you think he could possibly have?