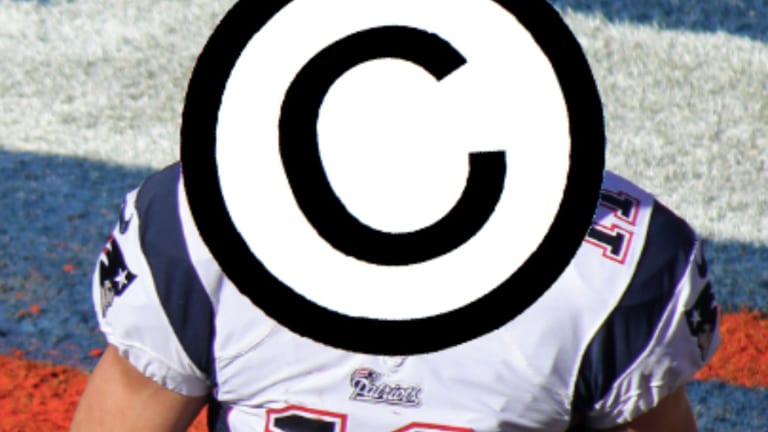 Julian Edelman's T-Shirt Company Is Almost As Easy To Dislike As Julian Edelman's Football Team
The biggest "underdog" on the "underdog" Patriots doesn't seem to understand likability or copyright law.
This is Julian Edelman's ninth season in the NFL, all with the Patriots. Really, though, the wide receiver has played 10 seasons, because he has played another 16 games in the playoffs, with 98 catches for 1,175 yards and five touchdowns – incredible stuff for a guy who was a seventh-round draft pick out of Kent State in 2009.
The reason that Edelman has played an entire extra year's worth of games in the playoffs is that he has spent his entire career with the New England Patriots, who on Sunday will be in the AFC Championship Game for the eighth straight year. On Wednesday, Edelman started selling a new t-shirt on his website.
"BET AGAINST US," is the slogan on the shirt, in bright red letters, set against a navy blue silhouette of the Patriots' logo.
Yes, the Patriots are playing the gritty underdog card despite being the dominant team of the last nearly two decades of professional football. Yes, this stance is completely ridiculous and being appropriately lampooned as such. Yes, despite all this, the Patriots are indeed getting three points on the spread, though as a road team that basically means Vegas thinks the game is a toss-up.
But people who are sick of the Patriots – in other words, everyone west of the Housatonic River – are not the target audience for Edelman's shirt. An "us against the world" mentality is meant to be bought into by the "us" side, not the "the world" side, and now Edelman can get $29.99 a pop for a shirt that, if you're a New England fan, is pretty cool – and has the side benefit of being an earnest slogan for the post-Tom Brady era when the Patriots actually do start to stink.
In addition to appealing to the natural neurosis of a fanbase that rightly thinks everyone can't stand them, but wrongly thinks everyone else believes their team is toast, Edelman's shirt is simply more fun than the words-on-a-shirt offerings from the Patriots themselves (though nothing beats good ol' Pat Patriot). Seriously, the Patriots' official shirts for sale read like motivational posters from the Gulag, with such messages as "NO DAYS OFF," "EVERYTHING WE GOT," and "DO YOUR JOB." On the plus side, the Patriots are edging very close to bringing RuPaul or Britney Spears to NFL merchandise, so there's hope for that in 2019.
Until "YOU BETTER WORK" and/or "WORK BITCH" become official intellectual property of New England Patriots, LP, though, Edelman is offering a better product at a competitive price, and good for him, because it's not every day that a worker gets the chance to undercut his own company for personal gain. It's also not every worker who gets paid $11 million on a two-year contract that features a $500,000 workout bonus, but hey, score one for the comparatively little guy here.
Then again, the budding apparel magnate of Foxboro may not like the end result of all this attention to his wearable wares. Other shirts on Edelman's site are the "Fenway Tee," "Parquet Tee," and "The Black and Gold," each of which are currently on sale and each of which holds quite a bit of potential for a claim of copyright infringement by a Boston sports franchise. "BET AGAINST US," you say? In court, you got it.