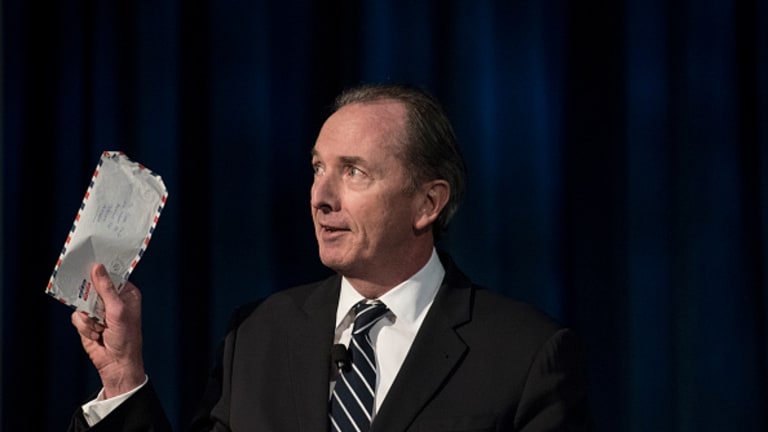 Aside From Substantial Revenue Misses In Its Two Biggest Businesses That Raise Big Questions About The Future, Morgan Stanley Had An Okay Quarter
Don't look now, Jimmy Gorman, but everyone is laughing at you.
To say that bank stocks had a "mixed quarter" would be engaging in a bit of hyperbole considering that we haven't really seen any of the big banks have a legit bummer of a result. Goldman destroyed, Bank of America made BriMo feel the rare twinge of victory and even a rare miss from JPMorgan was met with optimistic feelings for the future.
Everyone was feeling great about the financial sector going into this morning, and the market seemed to be saying that it was ready to fall in love with banks again. Until someone went and tried to fuck it up for everyone...
The bank posted profit of 80 cents per share, below the 89 cent average estimate of analysts surveyed by Refinitiv. Companywide revenue declined 10 percent to $8.55 billion, compared with the $9.3 billion estimate.

The firm's institutional securities business, which contains its trading and advisory units, posted $3.84 billion in revenue, nearly $500 million below the $4.33 billion estimate. The bank's wealth management division posted $4.14 billion in revenue, compared with the $4.45 billion estimate. Only the bank's smallest division, investment management, exceeded estimates, producing $684 million in revenue, versus the $656.7 million estimate.
What are you doing, Morgan Stanley? We were having fun and then you go and admit that you had some rough revenue situations, but only in your two biggest businesses? We hope you have a good explanation for ruining this daffy moment of delusional exuberance! Look what you did to Cramer for crissakes!
So, speak up. WYD, James Gorman?
"In 2018 we achieved record revenues and earnings, and growth across each of our business segments — despite a challenging fourth quarter," Gorman said in the earnings statement. "While the global environment remains uncertain, our franchise is strong and we are well positioned to pursue growth opportunities and serve our clients."
A simple "my bad" would have sufficed...
Morgan Stanley shares slide after earnings disappointment on weak trading, wealth management [CNBC]