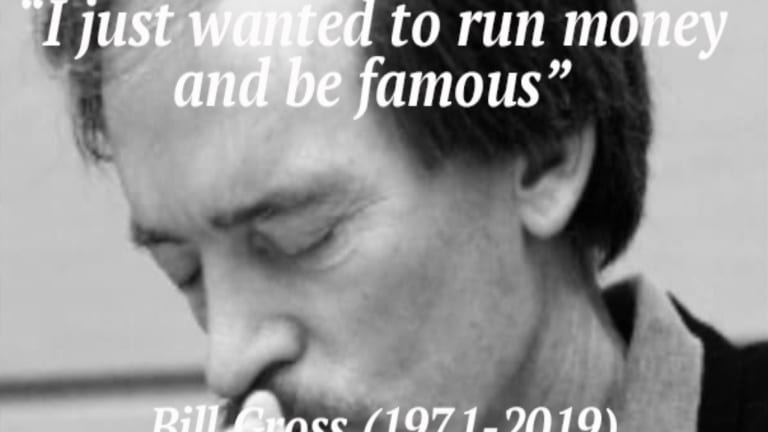 Janus Henderson Sends Bill Gross Sailing Off Into A Sunset...And That Sunset Is About To Get Some Colorfully Personal Investment Advice
The Bond King is "retiring."
Well, the day has finally come.
We always knew it was inevitable, but it also felt somehow simultaneously impossible. A day without the possibility of unconstrained investment advice given by an unrestrained Bill Gross? That's not a world in which we desire to live. 
And yet:
Janus Henderson Investors announced today that William H. Gross (Bill) has decided to retire from the firm and focus on managing his personal assets and private charitable foundation.
Pardon us...there's something in our eye.
How do you move forward knowing that tomorrow will be the first day in a new world that offers bond picks without stories about not getting laid in the backseats of cars, cat obits, #MeToo commentary or even thoughts on sperm?
This is a sad say for finance and a sadder day for the English language. It is, however, likely not a sad day for the clients and staff of Janus Henderson.
Dick Weil, Chief Executive Officer of Janus Henderson, said: "I have known Bill for the past 23 years. Bill is one of the greatest investors of all time and it has been my honor to work alongside him. I want to personally thank him for his contributions to the firm."
Yes. You were one of the greats, Bill...Leave your pass with security.
But at least Janus gave us the opportunity to hear once more from the Bard of Orange County. Behold, Bill Gross' farewell to arms:
Bill Gross said, "I've had a wonderful ride for over 40 years in my career – trying at all times to put client interests first while inventing and reinventing active bond management along the way. So many friends and associates at my two firms to thank – nothing is possible without a team working together with a common interest. I've been fortunate to have had that. And thank you to all of my past clients for their trust and support. I learned early on that without a client, there can be no franchise. I'm off – leaving this port for another destination with high hopes, sunny skies and smooth seas!"
Bon voyage to a true great.
Please join us at Noon when Mo El-Erian, Jeff Gundlach, and Manny Roman livestream themselves stepping up onto their desks while reciting "O Captain! My Captain!"