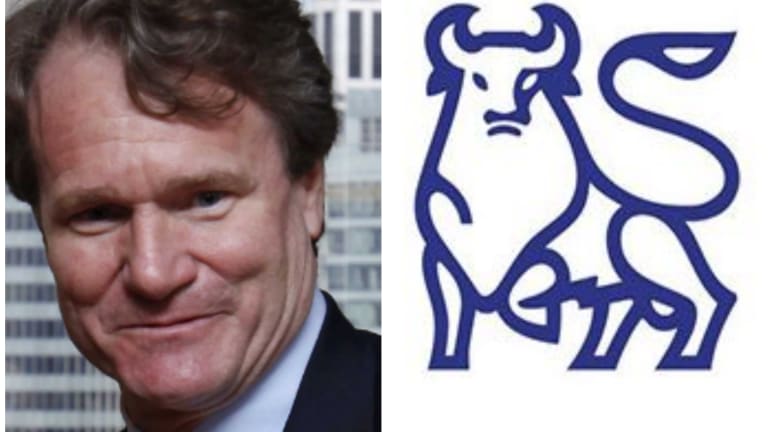 Brian Moynihan No Longer Too Embarrassed To Approach Clients As Being From Bank Of America
With apologies to Edmund Lynch.
For a decade, people doing their trading and investment banking, or entrusting their money, to Brian Moynihan and his hapless minions could tell themselves that they weren't debasing themselves by doing business with something as embarrassing as Bank of America. No. They were Merrill Lynch clients, beneficiaries of the Thundering Hurd. As BriMoy and BofA bumbled their way through fine after fine and lawsuit after lawsuit and unforced error after unforced error, they were protected by the fact that the parent company was too busy tripping over its own dick to get around to imposing that humiliating brand on the unwilling, at least in a meaningful sense.
The bank was once too embroiled in various postcrisis problems to devote energy to renaming the major businesses it bought.
Of course, that's not exactly true, as the Journal goes on to note five paragraphs later. It wasn't that BofA hadn't considered going all Anton Chigurh on the Merrill name. It's just that they thought better of it.
Early on, Bank of America executives announced they would keep the Merrill Lynch name on certain businesses "for the longer term." In 2012, the Journal reported that the bank had weighed changing the Merrill Lynch names but decided against it.
Now, however, BofA isn't a total laughingstock, or at least perceives itself to not be a total laughingstock, and so most of the Merrill and all of the Lynch have to go.
Bank of America plans to remove the Merrill Lynch name from its trading and investment-banking operations, executives said Monday. It will also rebrand the bulk of its wealth-management business as simply Merrill….

The bulk of the bank's wealth business, from the Merrill Edge business that caters to retail customers to Merrill Lynch Wealth Management with its "thundering herd" of financial advisers, will fall under the new umbrella name Merrill. The trademark bull will remain in its logo…. The decision to use part of the Merrill name in the wealth-management brand was "obvious," Mr. Moynihan said. "In the wealth-management business, it's the No. 1 brand there is."
Well, technically, the number one brand—if it is in fact the number one brand—is "Merrill Lynch," but Edmund Lynch has been dead for 80 years and really, who wants to listen to an overpaid branding consultant explain how the loss of his syllable is the necessary move for the total transformation and key to the future success of a business whose leader says it's already number one.
Bank of America to Drop Merrill Lynch Name From Some Businesses [WSJ]