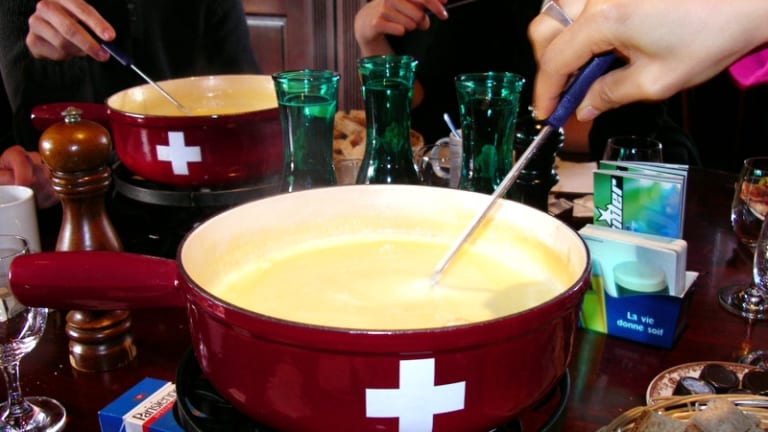 Credit Suisse's Intern-Licking, Money-Losing Days Are Over
Still, curb the enthusiasm that might evoke.
Three-and-a-half years ago, Tidjane Thiam said it would take three years to turn the increasingly stinky, rotting and oozing wheel of Gruyere that was Credit Suisse into some tasty fondue that shareholders might actually wish to eat. And, like the miracle that is melted dipping cheese sauce, he delivered on time: Credit Suisse is once again profitable, in spite of MDs who put their tongues on things other than cheese-drench cubes of bread. Unfortunately, it's still rather an acquired taste that few are particularly impressed with.
Credit Suisse posted weak trading results. With a pretax loss of 193 million francs for the quarter, its global markets business missed expectations. Revenue in the unit also missed expectations…. Revenue performance is still far from the target, the CEO said, and the bank is working to improve it.
But while Chef Thiam may be open to shaving off some of the moldier bits before tossing them into the caquelon, but that slightly off-putting, unctuous flavor of underwhelming trading isn't going anywhere.
At Credit Suisse, the promise of a bright future is tainted by its still struggling equity and bond trading operations.

The Swiss bank is adamant there will be no more cuts to trading. It fears becoming too small to do everything in capital markets that its ultrarich customers might want. For investors, however, its trading businesses look like a costly support function for the rest of its profits.
Credit Suisse Returns to Profit but Trading Weakness Remains [WSJ]
Credit Suisse Has Rich People's Problems in Markets [WSJ]