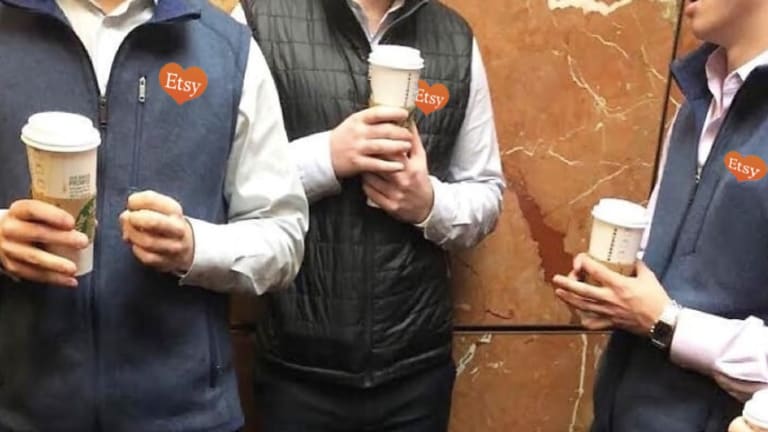 After Giving Up On All That Hippie Do-Gooder Nonsense, Etsy Stock Is A Papier-Mâché Rocket Of Capitalist Lust
Josh Silverman should buy himself a braggy throw pillow.
Etsy reported earnings today and...What?!?! Holy hell.
Etsy, Inc., the global marketplace for unique and creative goods, today announced financial results for its fourth quarter and full year ended December 31, 2018.

"By making Etsy a great destination for holiday shopping, we delivered strong fourth quarter results to end an excellent year," said Josh Silverman, Etsy, Inc. Chief Executive Officer. "On a currency-neutral basis, 2018 gross merchandise sales grew 20.4% to $3.9 billion for the year, revenue was up 36.8% to $603.7 million for the year, and we improved our margins. We kept our focus on improving search and discovery, building trust in the marketplace, expanding our marketing channels, and investing in services that fuel our sellers' success." 
We're not saying Etsy had a good quarter or a solid year, we're saying that Etsy has so thoroughly transformed its bottom line that we don't even recognize it anymore.
The Etsy that we're looking at right now is like one of those characters from a 90s teen comedy who, with help from a Type-A cheerleader, undergoes a makeover that transforms him from hippie skater weirdo to handsome jock who plays lacrosse, owns a convertible and tells people that he "crushes ass." It's unseemly.
Here's what we said about Etsy almost four years ago:
The whole point of Etsy was the promise that it can eventually turn the corner and make billions on making millionaires out of cat ladies with a crafting habit. But it was intent on plowing money into a bunch of crazy sh*t in the meantime and seeing what stuck. They're from Brooklyn! They're different. 
Etsy's whole B-Corp focus/obsession was essentially an altruistic PR persona that turned out to be a real thing, which in turn revealed itself to be a hole through which money poured out of Etsy and into charitable causes around the world. Like we said, that's cute when you're a bunch of hippie Brooklyn hipsters selling crafts on the interwebs from a Brooklyn loft, but it's way less cute to shareholders when you report massive losses over and over again after your IPO. Etsy was the bitter cool teen who  "sees things a little different I guess." And according to Wall Street, that sucked.
But then the board had it and changes were made.
And now, a little less than two years later. We have this:
Which means this:
Gone are the patchouli stank, baja poncho and rhythm sticks. Instead, Etsy is now rocking a fleece vest, some Bonobos slacks and a vape pen [it's high-end weed but these things take time]. Etsy is a capitalist now, and people are loving the new look.