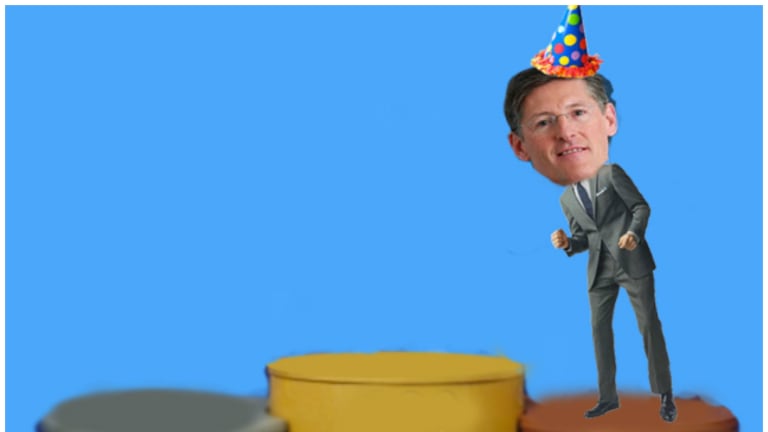 Citi Gave Michael Corbat An Extra Million For Keeping It Real Boring In 2018
The least memorable man in finance got a 4% bump, which feels quite fitting.
Michael Corbat seems like the kind of guy who likes his chamber music CDs played just loud enough so that he can barely hear them. He likely eschews doubles tennis at the club because he doesn't like crowds and we've always assumed that his favorite ice cream flavor is "cold."
To put it plainly, Michael Corbat is the most boring CEO on Wall Street. He's the name that's not on the tip of the tongue of the MBA student sitting at the bar saying "Dimon, Moynihan, Sloan, and...dammit! What's the guy at Citi again?" 
But that's why Citi loves Michael Corbat, and they just showed him their love with a very Michael Corbat-y raise...
Citigroup Inc. Chief Executive Michael Corbat received a compensation package valued at $24 million in 2018, a 4% raise from the $23 million he earned in the prior year, according to a securities filing Friday.
Yeah, baby! 4%! That's a number that "Corbats." It's not too showy, attracts very little attention and still gets the job done. An extra million to Mike Corbat is like the Citi board peeling some bills off a fat stack and handing it to the actual wallpaper.
For the year, he earned a base salary of $1.5 million, unchanged from the prior year, and a $6.75 million cash bonus, up from the $6.45 million in 2017, according to the filing with the Securities and Exchange Commission. The rest of his pay package is made up of about $7.88 million in equity awards and a long-term performance-based pay worth $7.88 million.
 That's a pretty full bucket of [likely steamed and underseasoned] chicken! What word would Citi use to describe the merit behind that kind of compensation?
In determining Mr. Corbat's pay, Citi said it considered the steady progress it made in 2018 toward reaching its financial goals.
"Steady." Mmm, so Corbat.