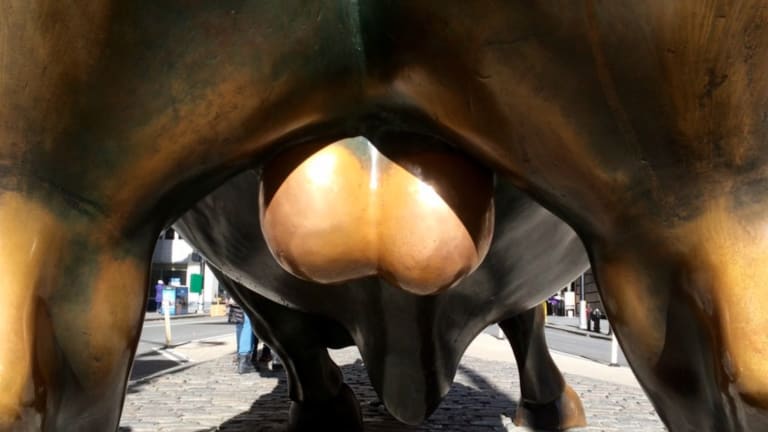 After Leaning Her In And Then Getting Her Transferred To A Less Visible Role, State Street Is Putting "Fearless Girl" In A Messy Legal Drama
Sometimes art IS truer than life.
Fearless Girl was initially lauded for her power and symbolism. Then she was [un]quietly moved into a less visible role, meaning that there was only one logical step for this pioneering woman on her move up the Wall Street ladder:
The feel-good arrangement between State Street Corp. and the sculptor it commissioned to make the famous "Fearless Girl" statue has taken a bad turn.

The Boston-based company has filed a lawsuit against the sculptor, Delaware artist Kristen Visbal, claiming that she's made and sold replicas of the statue in violation of her contract with State Street.
Yup. Fearless Girl is now tied up in a messy lawsuit filed by the company that claims credit for creating her. 
And here we thought that this metaphor would never feel real.
But why would State Street sue someone over a statue that it used to call attention to an issue that it had not yet internally addressed, then allowed to be moved when the male sculptor of the Wall Street Bull sculpture got mad that she was fucking with his vibe?
State Street this month learned through a news article that Visbal sold a "Fearless Girl" replica to an Australian law firm and two Australian funds, the lawsuit said. The sale violates Visbal's trademark and copyright license agreements with the company, it said.

Last year, Visbal sold another replica to the owner of the Grand Hotel in Oslo, Norway, which displayed it outside of the hotel on the anniversary of the state's unveiling in New York, according to the lawsuit.
Oh, so State Street is pissed that the woman who made a symbol of growing female representation in positions of power in finance made...more symbols of growing female representation? Hey, maybe we're being unfair. In matters like this hindsight is 20/20 and it's likely that State Street never saw how the optics might look here until it had already filed... 
She also brought a replica to the Women's March in Los Angeles in January, even though State Street rejected Visbal's request to bring the statue, the suit said.
...
Sorry, we were doing a spit take.
It's very difficult to convey just how badly State Street has buttfumbled this whole stunt from the start, so we'll let State Street's lawyers do it for us:
State Street claims that the replica statues "could also lead to a disruption of (its) business relationships and the loss of clients and potential clients who will now call into question the integrity of (its) asset stewardship programs, including the Fearless Girl campaign." The firm manages more than $2.5 trillion in assets.
While that whole paragraph is a fun word adventure, we have to take real exception with the notion that anyone would doubt the integrity of Fearless Girl's journey as a woman trying to make it on Wall Street.
She was publicly celebrated, then she was forcibly transferred, and now she's tied up in messy public litigation. Sometimes art does imitate life.
State Street sues 'Fearless Girl' sculptor [NY Biz Journal]