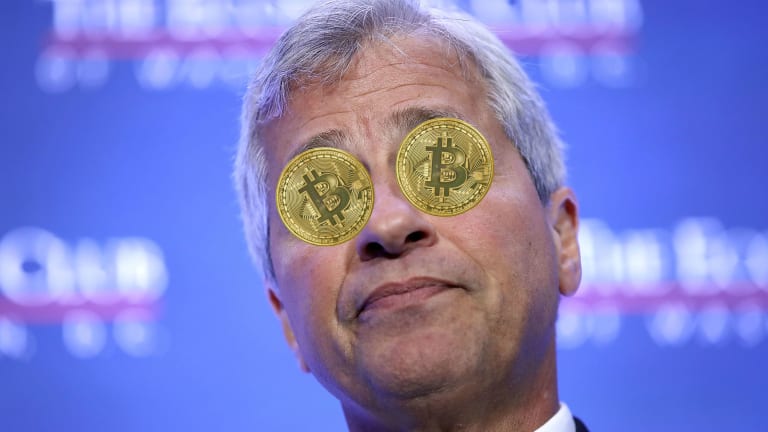 Jamie Dimon Hates Crypto So Much That He Made His Own To Prove How Dumb It Is
JPMCoin is the first financial instrument built to troll a whole class of financial instruments.
Before we lay ourselves down to sleep last night, we said our usual evening prayer: "Alexa, let me wake up to the most exhausting possible piece of financial news so that our day might be spent feeling crushed under the existential weight of hot takes."
Our prayer has been answered:
The first cryptocurrency created by a major U.S. bank is here — and it's from J.P. Morgan Chase.

The lender moves more than $6 trillion around the world every day for corporations in its massive wholesale payments business. In trials set to start in a few months, a tiny fraction of that will happen over something called "JPM Coin," the digital token created by engineers at the New York-based bank to instantly settle payments between clients.
Hahaha. IRONY! Cuz "Jamie Dimon like hates cryptos" right?
No, dummies.
This is not capitulation from Dimon and his bank, this is a concrete piece of satire meant to expose and cripple the entire crypto market. What, did you think Jamie built an underground bunker in Midtown and filled it with nerds so he could admit he was wrong? What are you, Sandy Weill?
Jamie Dimon isn't making his own crypto, he's making a thing that by its mere existence points out the inherent worthlessness of cryptos. Just ask him:
So what exactly is the JPM Coin and what is it used for?

JPM Coin is a digital coin designed to make instantaneous payments using blockchain technology. Exchanging value, such as money, between different parties over a blockchain requires a digital currency, so we created the JPM Coin.
So...
Are JPM Coins a currency or legal tender? 

The JPM Coin isn't money per se. It is a digital coin representing United States Dollars held in designated accounts at JPMorgan Chase N.A. In short, a JPM Coin always has a value equivalent to one U.S. dollar. When one client sends money to another over the blockchain, JPM Coins are transferred and instantaneously redeemed for the equivalent amount of U.S. dollars, reducing the typical settlement time.
It's money, dummy. Money that exists only if you give it to JPMorgan and let them make it, like, Blockchainable or whatever. JPMCoins [or "JayDimez" as they should be called and will be on this website henceforth] aren't a digital coin, they're digitized coins.
The crypto community is celebrating this announcement as a positive validation that a major bank has embraced the future of cryptocurrency. The crypto community is wrong...again. What we're looking at here isn't a new Ripple, it's a dad joke about Ripple.
In fact, we'd argue that JayDimez are more spiritually aligned with the butt plug that vibrates in concert with Bitcoin pricing than they are with an actual ICO. But instead of getting you off with libertarian nerdy kink, these things can move your money immediately from New York to Malta to...we'll just stop there.
And for those of you still snickering about Jamie Dimon's two-faced take on cryptos, why not just ask him about his thoughts:
What is J.P. Morgan's official stance on cryptocurrencies?

We have always believed in the potential of blockchain technology and we are supportive of cryptocurrencies as long as they are properly controlled and regulated. As a globally regulated bank, we believe we have a unique opportunity to develop the capability in a responsible way with the oversight of our regulators. Ultimately, we believe that JPM Coin can yield significant benefits for blockchain applications by reducing clients' counterparty and settlement risk, decreasing capital requirements and enabling instant value transfer.
JayDimez aren't JPMorgan saying "WTF, we love crypto now!" They're Jamie Dimon saying to his enemies in crypto "Nice little ridiculous market you've made here, it would be a shame if nothing happened to it."