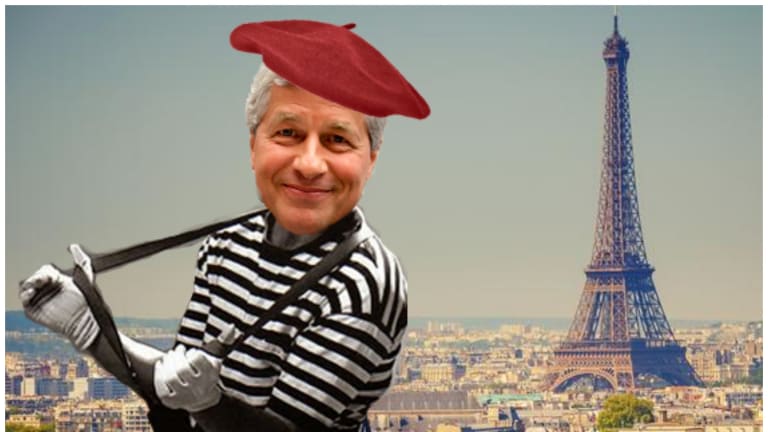 If Theresa May Cannot Get A Deal On Brexit, Jamie Dimon Will Be Forced To Spend Some Time In Paris This Spring
It's good to be the Khaleesi.
Based on what we're seeing out of London and Brussels these days, it seems increasingly unlikely that Britain is going to walk away from Europe with any kind of deal if it walks away at all.
And that's yet more bad news for many in London's finance sector who just want some clarity on how this flaming manure pudding [keep it ethnic] of a situation is going to resolve itself. With most major banks now on the verge of having to reorganize in Frankfurt and Dublin, it would be nice to know when to expect the end of enjoying their time in a real European city. In short, all of finance's power players are watching Parliament with bated breath...well almost all:
JPMorgan has secured additional office space on the outskirts of Paris to house up to 200 staff who could be billeted to the French capital at short notice, under plans to cope with the fallout from a 'no deal' Brexit, sources told Reuters.

The U.S. investment bank has expanded an existing lease at the temporary base so it can accommodate a swift transfer of crucial operations to the city by April 1 if Britain were to leave the EU without a deal on March 29, the sources familiar with the matter said.
That's right, JPMorgan is following through on its plan to reorganize in the world's 29th largest financial center as part of its "Jamie Dimon wouldn't be caught dead in Frankfurt" Brexit contingency plan.
Speaking at the Economic Club of New York in January, JPMorgan Chief Executive Jamie Dimon said the bank had spent hundreds of millions of dollars preparing for Brexit and was ready for all eventualities.
Every eventuality that doesn't include Jamie having to find a place to eat in Dublin. But at least JPM is bargain hunting for leases in the City of Lights...
JPMorgan has been resident in Place Vendome since 1916 but there is not enough space to accommodate its 'Day 1' Brexit team there, and not enough time to fit out other more permanent addresses under consideration, including Hotel de la Marine on Place de la Concorde, the sources said.
It's good to be the Khaleesi of Wall Street.
JPMorgan plans temporary Paris hub for 200 staff if no-deal Brexit [Reuters]