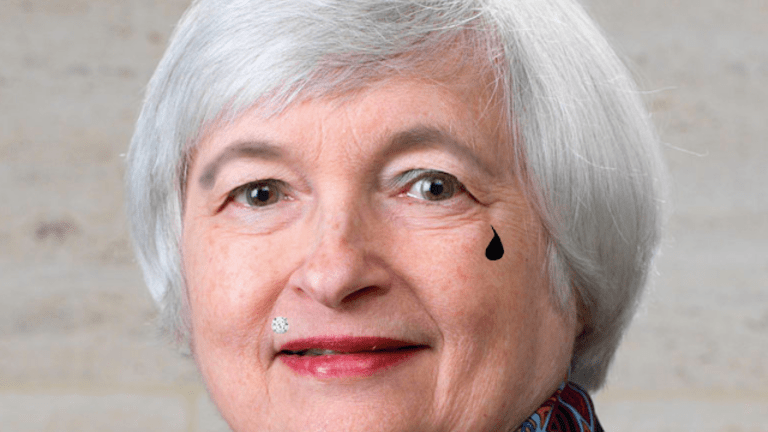 Shade Queen Janet Yellen Goes On The Radio To Clap Back At That Messy Drama Queen President Trump
J-Yellz has become the Cardi B of monetary policy.
When Donald Trump decided to replace Janet Yellen as Fed Chair, he pleased many who thought of Yellen as too cautious, a Keynesian girl in a Milton Friedman world.
But what Trump didn't anticipate was something that anyone who knows J-Yellz knew already. You can cross Janet Yellen, but homegirl is from Bay Ridge, so you better expect that she'll be back to dog walk your ass once she's ready to throw down...
And that time has come. 
Spin that diss track, Public Radio! 
(In this case, American Public Media's, Marketplace.)
[Kai] Ryssdal: Do you think the president has a grasp of macroeconomic policy?

Yellen: No, I do not.
UH OH! [AIR HORN SOUND]  
Ryssdal: Tell me more.
Oh, yes, please do...
Yellen: Well, I doubt that he would even be able to say that the Fed's goals are maximum employment and price stability, which is the goals that Congress have assigned to the Fed. He's made comments about the Fed having an exchange rate objective in order to support his trade plans, or possibly targeting the U.S. balance of trade. And, you know, I think comments like that shows a lack of understanding of the impact of the Fed on the economy, and appropriate policy goals.
While we are a little shocked at how raw she got on POTUS, we do think that J-Yellz showed admirable restraint by not commenting on Trump's "tragic-ass weave" or "tiny baby hands."
But once again, you mess with Janet Yellen and you will get attacked on the radio. That's just science.
Ryssdal: This is kind of a shot-in-the-dark question, but what would it take for you to pick up the phone and call Kevin Hassett at the Council of Economic Advisers? Or Larry Kudlow at the National Economic Council, and say "Hey, Lar?"

Yellen: Well, that's something that I have not done since leaving the administration.
Duck and cover, Larry Kudlow. She's on fire!!!
Former Fed Chair Janet Yellen: Far from retired, nowhere near done [Marketplace]