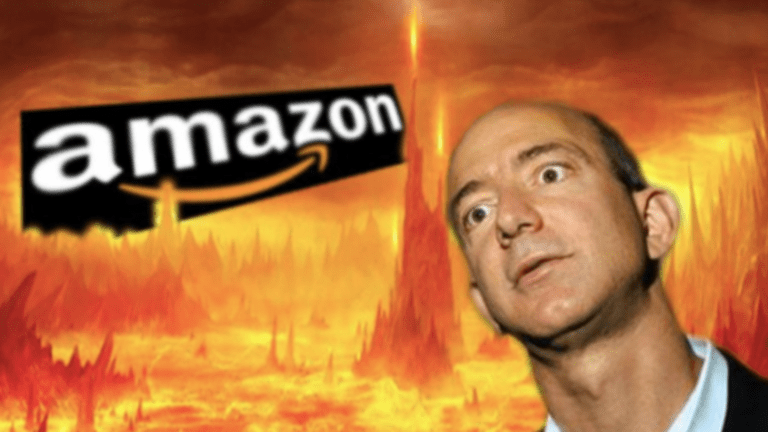 Amazon Stock Looks Limp Today
Jeff Bezos employs "The Gundlach Gambit" on the National Enquirer and the market is trying to figure out how to feel.
The most powerful man in American business refuses to be extorted over some dick pics that he claims are being used against him in an extortion plot that goes all the way from The National Enquirer to the West Wing.
So, how's your Friday?
We bet kind of weird. After all, how does the market factor in "The CEOs penis might be a key element of a Watergate-style blackmail scheme" into the value of the world's most valuable company?
Apparently, like this:
Setting aside that we find ourselves disturbed by the fact we have come to agree with Jim Cramer on something...and that we can't help wondering how a guy who was one of Amazon's lawyers for more than a decade ended up getting a job with AMI less than three months ago and is now the one doing the actual Bezos extortion...and that we're pretty impressed how Bezos took the Gundlach Gambit and made it all his own [so is the man himself], we're very disquieted by the precedent this all sets.
Sure, we're rather shocked that a guy like Bezos had dick pics out there, but that only makes us way more sure that guys like Elon Musk and all the recently single hedge fund kings are putting images of their turgid boners in an ever-filthier cloud. We don't want to live in a world in which we're getting eyefuls of man meat every time another billionaire ends up on the wrong side of a pointed hacking scandal. Because, let's be honest adults here, if this had been Elon or Dalio or [ye gods forbid] Uncle Carl Icahn, we wouldn't just have allusions to the pictures in question, we'd have the pictures themselves. We're about to live in a world where everyone is Lynn Tilton. That's how the Gundlach Gambit works after all; you get threatened with some salacious details about your horny personal life and you refuse to play ball, let it all come out and then watch it fade into memory everywhere other than very specific websites that have very loose morals and feel no human instinct to ever stop talking about it. But those details do come out, they always come out, meaning the breed of Alphas who run things now will disrupt the timeframe by just sharing their flawed humanity.
What is happening here with Amazon [and shorting the stock because Bezos took a few dick pics? Really?] is pretty bizarre and dumb, but it's also a frightening precursor to a new, flesh-filled reality in which there is no privacy or decorum or basic human dignity.
In other words, we're about to make a killing.