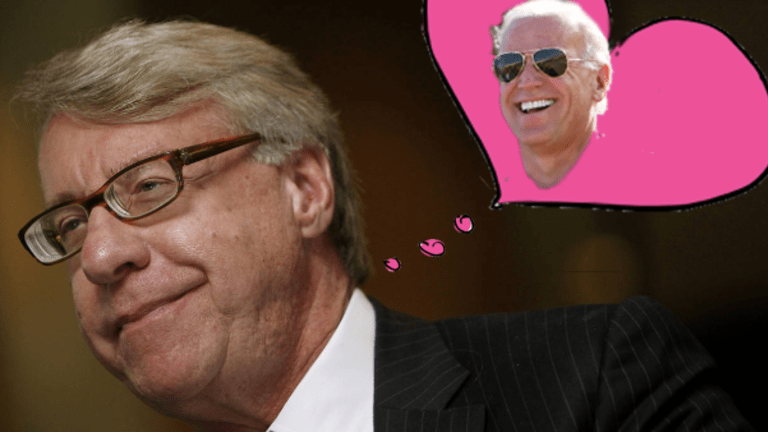 Guy Who Made Billions Predicting Spectacular Failures Is All In On "Joe Biden 2020"
Jim Chanos has his man.
It might be a day late, but Jim Chanos has revealed his biggest crush this Valentine's Day.
Famed short-seller and Democratic donor Jim Chanos plans to support former vice president Joe Biden if he runs for president in 2020.

"Like many other Americans, I certainly hope Vice President Biden decides to run in 2020. If he does run, I fully expect to support him any way I can," Chanos said in a statement first given to CNBC.
And grrrrrrrrl, Jimmy C got it bad...
When asked how much he is looking to spend to support a potential Biden candidacy, Chanos first responded, "lol no comment," and added: "Let's see if he decides to run, first."
"lol" indeed.
Chanos has been a Biden STAN for some time now, but he's the first hedge fund manager to throw in for Uncle Joe 2020, something that the former vice-president might want to be wary of going into a primary that looks like a seesaw with no one sitting on the right-hand side. And it's not like Chanos, a short-seller who made money on Enron and the global housing crisis, doesn't know how to pick a...winner?
But if Biden is looking to pick up the Democratic hedge fund vote, we say he shoots the moon and goes after Tony James, Dan Loeb, Jim Simons and even Bill Ackman now that he knows that "This asshole" is Bill Ackman.
So best of luck to Jim and Joe on making Biden 200 the hedgie campaign.
Short-seller Jim Chanos says he will support Joe Biden if he runs for president in 2020 [CNBC]