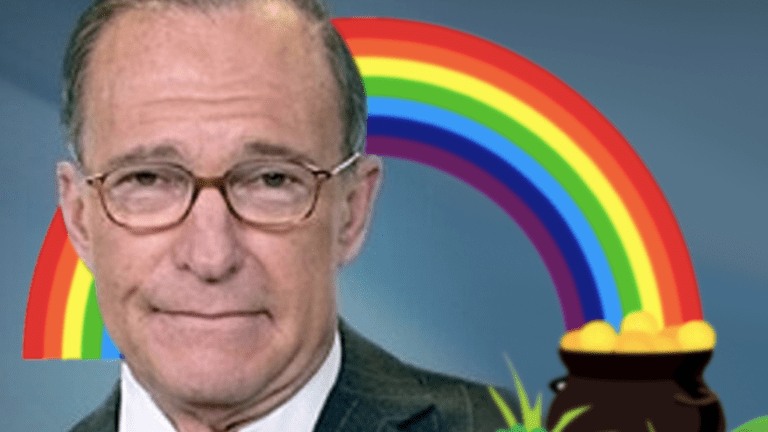 Human Counter-Indicator Larry Kudlow Says Trade Talks With China Are Going Great
So...just burn your money for warmth in order to survive the coming war with China.
US trade talks with China have been going on for so long that it's going to feel weird when or if they ever conclude. And the perpetual uncertainty of how this whole thing ends has kept the markets moving in panicky shifts for more than a year as the Trump administration tries to contort the president's petulant tariff threats into a cogent diplomatic narrative. 
And the last few days have been a real window into how badly things are going in talks with China. Remember when Trump and his lead negotiator Robert Lighthizer disagreed on live television about what MOUs are? And then how Trump kneecapped Lighthizer on Tuesday by backing down from his big boy threats on tariffs? And then how Lighthizer went to Congress yesterday and was all "Deal with China? Don't hold your breath."
Well, don't worry, the White House can explain why this is all good news and prove that things are going swimmingly with Beijing:
National Economic Council Director Larry Kudlow said Thursday that trade talks between the U.S. and China are going great, noting the two countries are making "fantastic" progress in meetings last week.
Yeah, baby! Kuddles in the house! And the most incorrect man in American economics was happy to elaborate, sweethearts...
"Last week was fantastic," Kudlow told CNBC's "Squawk on the Street. " "We're making great headway on nontariff barriers and tariffs regarding various commodities such as soybeans and energy and beef. We have mechanisms with regard to enforcement, which is — I think — unparalleled."
Music to the ears of everyone shorting a trade deal with China. As was Kuddles assurance that Trump and Lighthizer are totally on the same page, and his blithe decision to round up 2.9$ GDP growth to 3%, just...cuz. 
So, enjoy your morning with the full knowledge that trade talks with China are in the shitter, Lighthizer is on the outs and GDP growth is not anywhere near where White House forecasts thought it would be. Larry Kudlow: Human Counter-Indicator.
And in case you think we're just making up the whole idea that only lunatics are buying what Larry Kudlow is selling, we brought proof:
Be careful out there.
Larry Kudlow says US-China trade deal talks made 'fantastic' progress last week [CNBC]