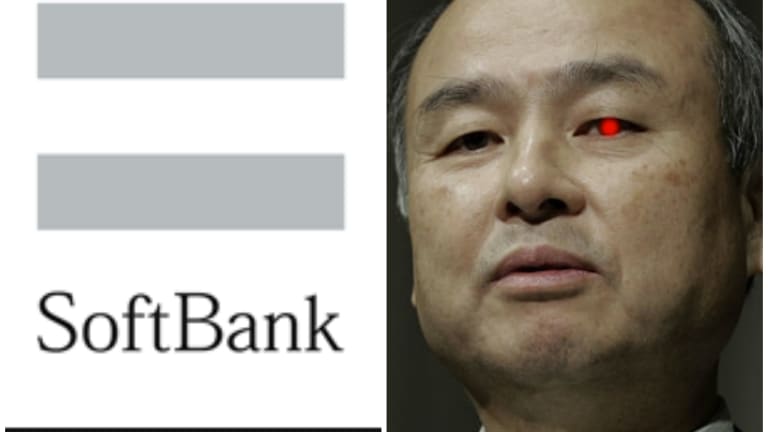 Softbank CEO Masa Son Is Officially the Greatest Performance Artist In Finance
The de Kooning of money is about to create his masterpiece.
There are geniuses in this money game [see: Klarman, Seth], and there are visionaries [see: Bogle, Jack] and there are crazy performers [see: Musk, Elon]. But there is really only man who personifies all things at once, one man who has taken the idea of running a multi-billion dollar company, fused it with a sci-fi vision of the future, turned his company on his head and thrown so much money at so many other companies that he has fundamentally changed the perception of value.
That man is Masayoshi Son, a true artist of the absurd. And he's about to paint his masterpiece:
SoftBank Group Corp. is buying back as much as 600 billion yen ($5.5 billion) of stock, as founder Masayoshi Son steps up efforts to close the disparity between what he thinks the company is worth and its market value.

Proceeds from the 2.4 trillion yen initial public offering of its telecommunications business in December will be used to fund the repurchase, the Tokyo-based company said Wednesday. It's the biggest-ever buyback in SoftBank's history, and the shares rose in late trading.
No, don't roll your eyes. This is Masa Son. This is art.
He spent much of his presentation explaining that SoftBank's holdings are worth 21 trillion yen net of debt, while the market value is 9 trillion yen. The gap is even laid out on its website, which shows the stock trading at a 59 percent discount to a sum-of-the-parts calculation that includes the telecoms unit, Alibaba Group Holding Ltd., U.S. carrier Sprint Corp. and Yahoo Japan Corp.
There is a stark beauty to this new piece. The composition is bold and calculating. We can feel the artist straining to convey his deeper meaning. In a way, it's almost confrontational...
"What is that gap all about? Isn't that weird?" Son said at the briefing. "I personally think the share price is too low."
This might be the best thing the artist has produced since he made everyone believe that WeWork was worth $45 billion. The man is the de Kooning of money.
The share repurchase period will start Thursday and last through the end of January next year, and the stock will be retired. SoftBank Group's operating income rose 60 percent to 438 billion yen in the last three months of 2018. Revenue rose about 5 percent. The company didn't give full-year earnings forecasts. 
Even when the details are subtle, the art within the artist remains ever present.
Whether SoftBank embarks on another buyback might depend on how long Son, 61, plans to be in the job. Asked about his plans for retirement, Son said he'll remain CEO until 69, and then stay around as chairman for a while longer.
Pardon us, we can't type anymore. We need our fingers to wipe away tears and applaud.
SoftBank Seeks to Close Valuation Gap With Share Buyback [Bloomberg]