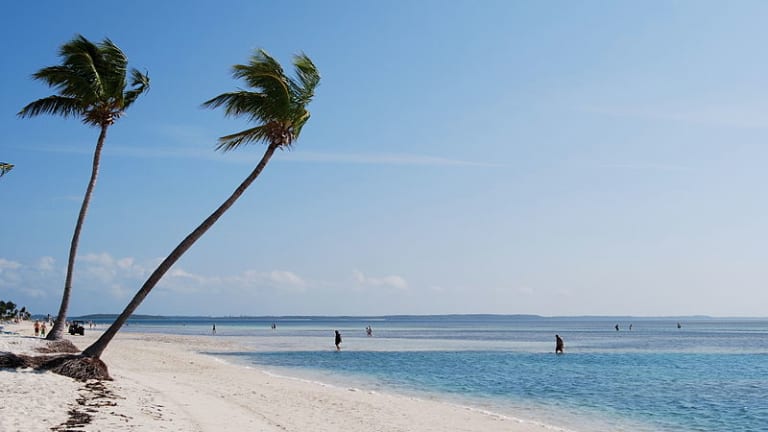 Louis Bacon Close To Seeing Hated Bahamas Neighbor In Jail Or Dead
He won't get picky as to which.
After a three-year hiatus, the long-running hedge fund billionaire vs. Canadian affordable fashion mogul legal soap opera "As Lyford Cay Turns" is back with an all-new season, and things aren't looking good at all for the flamboyant discount duds purveyor that everyone (well, Louis Bacon, anyway) loves to hate, Peter Nygard. Before plunging into the most recent twists and turns, let's binge-watch some old episodes to refresh our memories.
Previously on "As Lyford Cay Turns":
Hedge fund billionaire Louis Bacon's gardener is found in the buff and in the Jacuzzi—and also dead. The circumstances don't appear suspicious until Bahamian police also find some military-grade speakers on the property, pointed right at the burnt-out Mayan-style private resort of Bacon's neighbor and fellow billionaire, Peter Nygard.
Next, Bacon and his pals (you know, like Sean Connery, Ronald Reagan's Treasury secretary, a Swiss-born casino mogul, and a Canadian Olympic bobsledder and adventure who's also the brother of the guy who wrote The English Patient) say Nygard's not the good-time Johnny he claims to be, but a serial dolphin killer who's broken every law known to the Bahamas. Which accusations, Peter Nygard says, are pretty interesting coming from a secret Grand Wizard of the Ku Klux Klan and drug kingpin who only turned to soundwaves of death after his nefarious plot to burn Nygard to death failed—and who killed the man he sent to do it in a Jacuzzi. The second season ends with Bacon telling Nygard, "I'll see you in court."
But he wouldn't, when a New York judge ruled that defamation in the Bahamas is not a matter for the New York courts. That didn't stop Bacon from turning the tables on Nygard. It wasn't Bacon trying to kill Nygard after all—but the other way around, with Nygard spending some of his cheap clothes cash on henchmen with names like "Bobo" and "Toggi" to smash-and-grab, firebomb, rough people up—and even to kill Bacon, all with the connivance of the Bahamian government, which Nygard had bought off to look the other way as he destroyed the fragile ecosystem of Lyford Cay in his mad quest to reconstruct Chichen Itza, but with tiki bars, on a Bahamas beach. He'd stop at nothing to get his 150,000-square-foot pleasure palace rebuilt, and it looked like he would after an insider-trading scandal damaged Bacon. But unfortunately for Nygard, his takeover of the Bahamian political system ended at the courthouse door.
Now, "As Lyford Cay Turns" returns in a different courtroom: The New York State Appellate Division in Manhattan, which says Bacon can sue Nygard on home turf for saying all that nasty stuff about him.
A panel of appellate judges in Manhattan overturned that ruling Tuesday, saying Bacon, a New York resident, would "suffer hardship" if forced to litigate in the Bahamas, where there is no right to a trial and no method to question witnesses beforehand.
But it is Nygard who'll be suffering hardships at the hands of the Bahamian courts.
The luxurious Caribbean estate owned by Canadian fashion mogul Peter Nygard has been seized by the Supreme Court of the Bahamas…. The court ordered the seizure after Nygard failed to pay nearly $3 million in legal fees owed to Save the Bays, which has been fighting for years to stop him dredging the sea floor around his estate. Smith said Nygard has roughly doubled the size of his property over 30 years, enlarging his own beach while starving the natural flow of sand to neighbouring properties and a nearby national park….

"Mr. Nygard considers himself to be completely above the law in the Bahamas," Smith said. "He's been running his little Republic of Nygard since the 1980s here."
And Nygard is learning that he's not above the law in the Bahamas—if the Bahamas can catch him, that is.
A judge in the Bahamas issued a warrant Monday for the arrest of Canadian fashion mogul Peter Nygard…. The warrant was issued after Nygard failed to appear in court multiple times for a sentencing hearing related to two contempt of court convictions, after a judge found that he had repeatedly ignored a 2013 injunction that banned him from dredging….

On Monday, a Bahamian doctor filed an affidavit stating that the 77-year-old was unable to travel to the Bahamas due to poor health. According to the affidavit, Nygard flew to Winnipeg on Friday, but upon landing felt very dizzy and thought he was having a stroke. "I do believe that the preliminary decision of his Canada-based physicians to ground him in Canada is in the best interest of his health," wrote Dr. Lynwood Brown. "In particular, I believe that the air-pressure of flying at or over 30,000 feet in order to get to the Bahamas, could be fatal."
Will Nygard feel the probably not-that-cold touch of Bahamian handcuffs on his wrists? Will Mounties force him to take a possibly deadly flight back to Nassau to answer for his crimes? Is Nygard Cay about to become Bacon Beach? Stay tuned for the next episode of "As Lyford Cay Turns."
Billionaire Bacon's Defamation Suit Against Nygard Revived [Bloomberg]
Court seizes fashion mogul Peter Nygard's opulent Bahamian estate over illegal dredging [National Post]
Court in Bahamas issues arrest warrant for Canadian fashion mogul Peter Nygard [National Post]