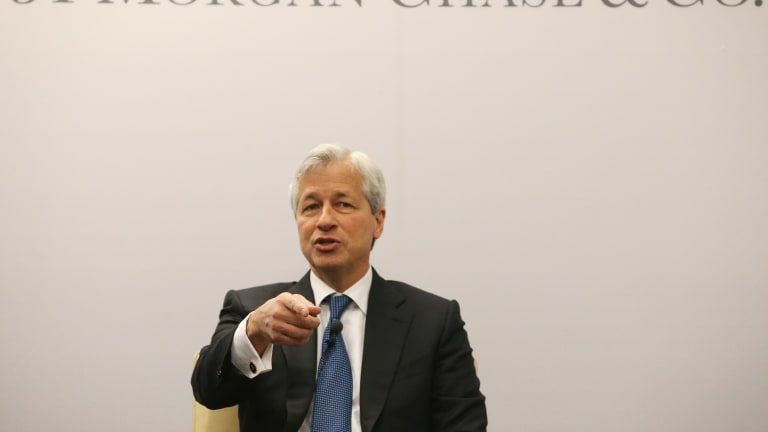 Opening Bell 2.15.19
Who's the fraud now, Jamie?
Start your day every morning with the Opening Bell powered by The Water Coolest. The Water Coolest is the preferred bathroom stall reading material of finance professionals. Sign up for the free daily newsletter.
Oh, and BTW, The Water Coolest and Dealbreaker are giving away a Johnny Wall Street Starter Kit:
1x Patagonia Better Sweater Fleece Vest
1x pair of Birddogs shorts
1x JUUL Starter Kit
"WORSE THAN TULIP BULBS" - JAMIE DIMON
Since Jamie Dimon most certainly isn't *wink wink nudge nudge* running for President in 2020, what's the only way for him to ensure that his mean-mug will be memorialized on legal tender? You guessed it: create a cryptocurrency.
JPMorgan Chase plans to introduce the "JPM Coin" to facilitate the transfer of funds between corporate clients that utilize its treasury services. The Dimon-bucks will be pegged to the US Dollar (i.e. 1 JPM Coin = 1 USD) and will allow for the instantaneous transfer of value.
Clients will be able to settle international payments, securities transactions, and corporate cash flows in real time. JPM transaction products service more than 80% of the Fortune 500, transferring more than $5T in wholesale payments worldwide … every damn day.
Remember that time Jamie Dimon called bitcoin a 'fraud?'
Us too. Not only did Jamie Dimon throw shade at the hottest crypto-coin of 2017, but JPMorgan barred Dogecoin (and other crypto) enthusiasts from buying alt-currency using its credit cards.
Of course, JPM isn't exactly paying DJ Khaled to hawk an ICO with this crypto play. The secure ledger network will remain internal to JPM, unlike the public blockchain.
JP Morgan is rolling out the first US bank-backed cryptocurrency to transform payments business [CNBC]
IN OTHER NEWS
- Amazon cancels plans for NYC HQ2
- Credit Suisse posted a profit
- Retail sales numbers for December look suspicious
Sign up to receive The Water Coolest to get daily business news delivered to your inbox every AM.