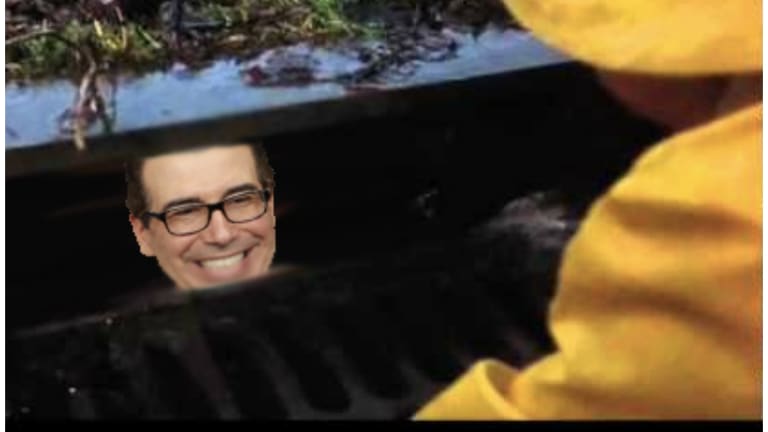 Otherwise Rational People Still Betting Their Real Money On Steve Mnuchin Being Able To Reach A Trade Agreement With China
At least he's got Peter Navarro!
We now live in a "Groundhog's Day" type situation. 
Every Friday, we wake up with a vague memory that The United States is on the brink with a trade war with China, and our only hope is a White House that is as changeable as a toddler with a rash. Yet by the end of the day, some thin rumor or some thinner statement from a senior Trump aide has everyone thinking that we are about to reach some magnificent trade deal with the Chinese government.
Like today for instance:
Stocks surged on Friday amid increasing hopes for a U.S.-China trade deal as equities were on pace to post another solid weekly gain.

The Dow Jones Industrial Average jumped 355 points as J.P. Morgan Chase and Goldman Sachs outperformed. The S&P 500 gained 0.84 percent, led by the energy and industrials sectors. The Nasdaq Composite advanced 0.37 percent.
Yes, why not? If Larry Kudlow is going to intimate that vibes are good between the Chinese and Steve Mnuchin [entities that we had heretofore classified as "vibe-proof"], why not start buying up American equities on the assumption that a man whose entire career is a masterclass in vaguely failing upward,s and without any diplomatic experience, will somehow strike the greatest trade treaty that the modern world has ever seen?
China and the U.S. are trying to strike a trade deal before an early March deadline. If a deal is not reached by then, additional U.S. tariffs on Chinese goods could take effect. President Donald Trump, however, is considering pushing back the deadline by 60 days to give negotiators more time to come up with a deal.

"If there is a resolution, you've got a lot of market participants who are anticipating a big pop-up. That's why we continue to see money into the equity market as well," said Daniel Deming, managing director at KKM Financial.
Yes. You wouldn't want to be left out in the cold when the man who produced "Winter's Tale" joins the world's two most powerful economies in peace and prosperity.
See you next Friday, you fucking lemmings.
Dow jumps 350 points on trade hopes, heads for 8th straight weekly gain [CNBC]