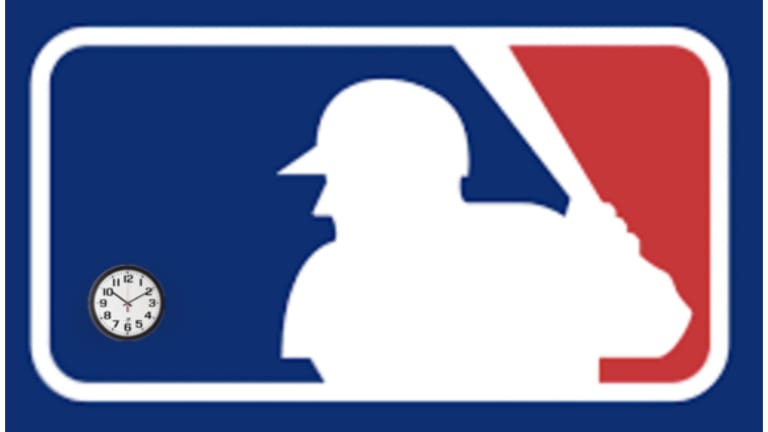 MLB Is Fixing Another Problem It Doesn't Have
Andrew Chafin is the new poster boy for what isn't really wrong with baseball.
Andrew Chafin is a 28-year-old pitcher for the Arizona Diamondbacks, and while he won't be picked in even the deepest of fantasy league drafts, he's pretty good. Chafin held opposing hitters to a .227 average and .621 OPS last year, striking out 53 of the 211 batters he faced and not allowing any home runs.
So, why do you need to know about Andrew Chafin, anyway? Because Andrew Chafin has been ruining baseball. But the clock is now ticking on his reign of terror.
Chafin led the major leagues last season with 35 appearances – out of his total of 77 – in which he only faced one or two batters. Starting in 2020, as part of a raft of changes jointly announced by Major League Baseball and the MLB Players Association on Thursday, pitchers will have to face a minimum of three hitters, or finish an inning, before leaving a game.
The idea is part of MLB's forever quest under Rob Manfred to shorten baseball games, and the new rules package does include an actual impactful move to that end, reducing inning breaks by five seconds on locally-televised games and 25 seconds on national broadcasts. An "Election Day" for the All-Star Game and a million-dollar prize for the winner of the Home Run Derby are good ideas to boost interest in the Midsummer Classic and participation by young stars who often make less in a season than they could make for a good round of batting practice in July. The trade deadline on July 31 will be an actual deadline, removing a bit of baseball arcana. And, in part to ease the pain of a class of short relievers being nudged toward the door, team rosters will expand from 25 players to 26.
But it's the three-batter rule that is getting, and which deserves, the most attention, because it's something that has an actual impact on the way the game is played. It manages to dramatically impact in-game strategy while also classifying as a "likes are now florps" kind of move that accomplishes nothing.
That the idea is based in addressing the thoroughly flawed idea that what's holding baseball back in the 21st century is that it takes a half-hour more to play a major league game than it did 50 years ago should be the first clue that this is a change made on shaky footing.
Yes, every time there is a mid-inning pitching change, there is an extra commercial break as the new pitcher comes into the game and throws his eight warm-up pitches. But how often do pitchers fail to face three hitters, anyway? It happened 2,307 times in 2,431 major league games last year, and only twice in history – in 2012 and 2015 – has it been a more than once-a-game occurrence.
Of those 2,307 times that a pitcher faced only one or two batters, there were 106 times that said pitcher recorded a win, meaning that he finished an inning and his team then took the lead. Another 407 times, those pitchers were finishing games. And five times, the short-lived pitchers were starters: three were injured, Miami's Jose Ureña was ejected after hitting Atlanta's Ronald Acuña Jr. with the first pitch of a game, and Milwaukee once used lefty specialist Dan Jennings as an "opener."
That leaves 1,789 instances of pitchers failing to meet the new minimum. If you consider the extra time from each of these appearances to be two minutes, that means eliminating short relief appearances will save an average of 88 seconds per game. Except, it won't do that, because unintended consequences are a thing that exist and a thing that Major League Baseball never seems to consider with these changes.
On September 11 of last season, Chafin came into a game in Denver, trying to hold a 4-3 lead for Zack Greinke with two outs and a runner on second base, and when he got to the mound, it turned out he didn't bring his best stuff with him. When Chafin came in, the Rockies had righty-hitting Chris Iannetta pinch-hit for lefty-swinging Gerardo Parra, and Chafin walked him. Then, Chafin got to face a lefty, Charlie Blackmon, and walked him, too, loading the bases. With righty D.J. LeMahieu up next, the Diamondbacks went to the bullpen, Brad Ziegler got a grounder to end the inning, and Arizona went on to win the game after tacking on a couple of insurance runs.
Had Chafin been forced to stay in to face LeMahieu, he may very well have gotten the same result – he did, unexpectedly, hold right-handed batters to a .193 average last year. He also may have issued another walk to bring home the tying run. Or maybe he would've given up a grand slam, maybe giving the Rockies the National League West title, as Colorado finished tied with the Dodgers after 162 games. Beyond those implications, just imagine how much longer that Diamondbacks-Rockies game might have been, had Chafin had to face a minimum of three batters on a day when he didn't have it.
This is the issue with solutions to problems that don't exist. If Major League Baseball really wants to change the narrative around the sport, searching for a few spare minutes is not going to do it, not when the entire offseason has been spent mired in a stalled free agent process that still includes Dallas Keuchel and Craig Kimbrel being jobless, and not when the league continues to struggle to effectively market itself and its star players, instead choosing to try to appease the complaints of people who don't even like the sport in the first place.