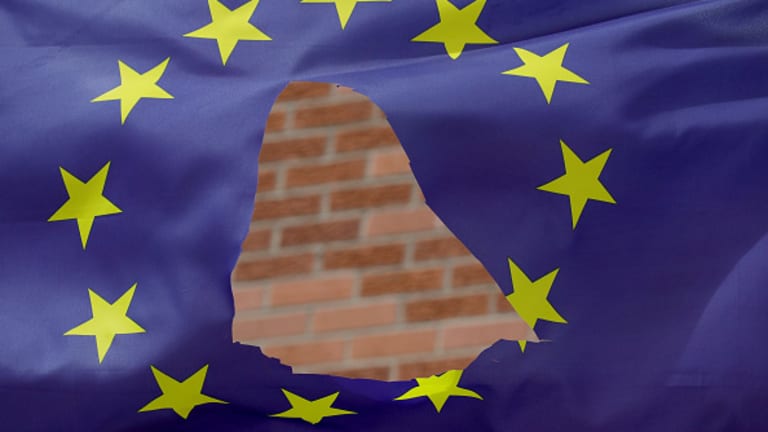 Brexit Day Goes About As Well For Brexit As Every Other Day Since Brexit Vote
The moneymen are no longer amused.
Let's see. It's March 29, 2019. The sun is setting across Europe. Therefore, according to this calendar alert I set two years ago, that means we're just hours away from Union Jacks being hauled down across Brussels and fireworks illuminating the skies above the Thames as the British, who've had quite a few of these declared against them, celebrate… THEIR INDEPENDENCE DAY. Let's turn to London to check in on the festivities.
Wait, sorry, wrong feed.
Theresa May's Brexit plan has been defeated for a third time in parliament despite a large number of Tory rebels finally backing it….

"This House has rejected no deal, it has rejected no Brexit. On Wednesday it rejected all the variations of the deal on the table. And today it has rejected approving the withdrawal agreement alone and continuing a process on the future."
I see. Well, I guess the moonscape devastation of the above clip pretty well sums it up, then.
Stephen Phipson, chief executive of manufacturers' group Make UK, said: "Business is devastated that after two years of negotiations, months of increasing uncertainty and weeks of building frustration, after three attempts the withdrawal deal has not been agreed by the House of Commons.

"This now makes the nightmare of a no-deal scenario more likely than ever."
Edwin Morgan, interim director general of the Institute of Directors, said: "We are running out of words to express how sick business leaders are of being stuck in this spirit-sapping limbo."
It would, of course, be too exhausting to go over how we got to this point, so we'll just let Politico do it. But as we enter the 133 weekend of this divine purgatory, don't think there aren't some silver linings.
Britain introduced a "temporary permissions regime" or TPR for EU financial firms to notify UK regulators if they want to continue serving UK customers after March 29 if the United Kingdom left the bloc with no divorce settlement….

The Financial Conduct Authority (FCA) said on Friday it has extended the deadline for notifications to April 11, the day before Britain has agreed with Brussels to leave the EU if there is no exit deal.

The Bank of England's Prudential Regulation Authority (PRA)has introduced a similar extension.
Brexit vote: Theresa May's deal rejected by MPs again despite winning support from Tory rebels [The Independent]
Business 'devastated' by Brexit vote [BBC]
Brexit fatigue: business leaders fed up of paying price of uncertainty [Guardian]
How the UK lost the Brexit battle [Politico]
Britain gives EU banks more time for no-deal Brexit preparations [Reuters]