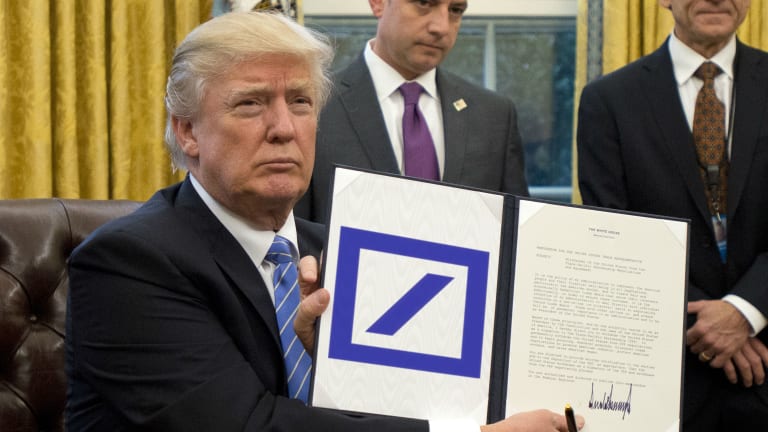 Deutsche Bank Can Finally Stop Worrying About Whether It's Gonna Get Subpoenaed For That Trump Stuff
The NY Attorney General has eased Deutsche's burden of worry by issuing a subpoena.
We've been waiting for this moment for all our lives...or at least since the summer of 2017.
And it's finally here. Someone is finally looking to legally connect the strings between Donald Trump's money mysteries and Deutsche Bank.
The New York attorney general's office late on Monday issued subpoenas to Deutsche Bank and Investors Bank for records relating to the financing of four major Trump Organization projects and a failed effort to buy the Buffalo Bills of the National Football League in 2014, according to a person briefed on the subpoenas.

The inquiry opens a new front in the scrutiny of Deutsche Bank, one of the few lenders willing to do business with Donald J. Trump in recent years. The bank is already the subject of two congressional investigations and was examined last year by New York banking regulators, who took no action. 
This is bad news for almost everyone involved but we will argue that it's good news for Deutsche Bank. This whole Trump thing has been hanging over the bank's head like - yet another - Sword of Damacles. Christian Sewing doesn't need another nightmare of uncertainty hanging out there in the dark mist. He's got enough on his plate.
So, congrats on being subpoenaed, Deutsche. All you have to worry about now is staying alive long enough to not fuck up your merger with Commerzbank while hoping that you are not outed as the link between the US President and Russian influence.
Tuesday!
New York Attorney General Opens Investigation of Trump Projects [NYT]