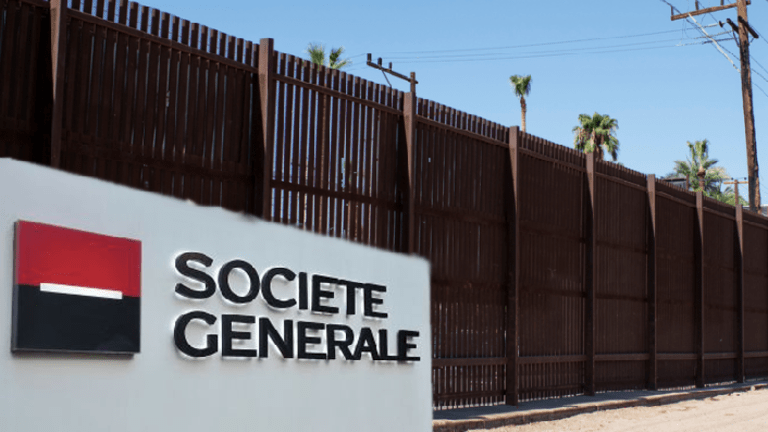 Donald Trump Decides That, Actually, Société Générale Is Gonna Pay For His Wall
Well, this is a fun twist.
Remember when Mexico was going to pay for Trump's border wall with...Mexico? And then Mexico was going to pay for via tariffs? And then American taxpayers were going to pay for it but it would be cool because...economic growth? And then no one was going to pay for it because the Democrats took back the House?
Well, we have a NEW PLAN, you guys, and it is a le doozy!
The White House is targeting a windfall from an international banking scandal to help pay for the border wall, according to an administration official.

French bank Societe Generale struck a deal with the U.S government in November to pay $1.3 billion after admitting that it violated U.S. sanctions on Cuba and Iran for years. The administration is hoping to funnel as much as $359 million from that settlement to a special account at the Treasury Department to fund the wall, the official said.
That's right, Donald Trump and his Warlock Treasury Secretary are going to make the French pay for the wall, and by "the French" we, of course, mean naughty French bank Société Générale. 
Thanks to SocGen pouring in a few hundred million to what is essentially a Treasury Department slush fund that can be dipped into for what we assume is technically defined as "law enforcement shit," the Trump administration can get foreign banks to pay for the wall. In fact, Trump needs $8 billion according to his math and if you keep a calculator handy, follow along:
About $3.6 billion will be drawn from previous allocations for military construction. Another $2.5 billion would come from counter drug activities at the Defense Department. The spending deal that Congress passed in January also included $1.4 billion for fencing and other structures. Another $601 million from Treasury's asset forfeiture fund would fill the gap.

According to the administration, about $242 million is already available in the fund. The remaining $359 million will come from "future anticipated forfeitures" — notably the settlement with SocGen. Two administration officials said the bank's forfeiture is still awaiting final court approval.
This is a batshit way to handle money, and it would have been unthinkable 27 months ago, but it is also a cosmically brilliant way to continue trolling the global financial system.
Donald Trump is going to continue threatening to build his wall signaling his intention to cut America off from the world, and European banks are going to pay for it.
We are truly through the looking glass.
Trump wants to use a big banking settlement to help build his border wall [CNBC]