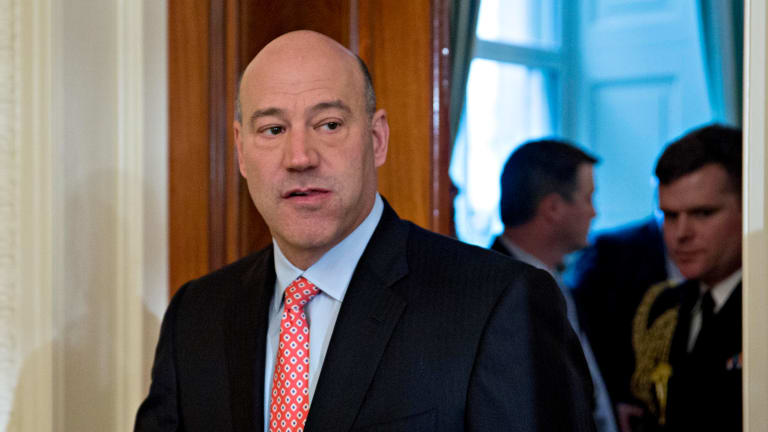 Gary Cohn Isn't Not Telling People About That Time He Didn't Stop AT&T From Buying Time Warner
It really feels like The Big Grundle is giving out anonymous primo quotes to reporters about what he did in Trump's White House.
Ever since Gary Cohn left the White House, we've read a surfeit of stories in major news outlets recounting key moments of his tenure as Trump's Director of the National Economic Council. The stories are varied in terms of context, but they all contain three key elements: They all use anonymous sources, are clear that Gary Cohn was determined to save Trump from himself, and the details of what Gary thought said and did are very detailed.
The more of these we've read, the more it's occurred to us that Gary Cohn was anonymous source telling reporters all these great Gary Cohn in the White House stories. That said, we always felt like just enough care was paid to make it just opaque enough for anyone to tie Gary to the quotes. 
Until today.
In a bombshell report on Fox News that went online this morning, The New Yorker's Jane Mayer reports a tasty tidbit on Gary's role in Trump's not-so-secret war on the AT&T/Time Warner merger:
However, in the late summer of 2017, a few months before the Justice Department filed suit, Trump ordered Gary Cohn, then the director of the National Economic Council, to pressure the Justice Department to intervene. According to a well-informed source, Trump called Cohn into the Oval Office along with John Kelly, who had just become the chief of staff, and said in exasperation to Kelly, "I've been telling Cohn to get this lawsuit filed and nothing's happened! I've mentioned it fifty times. And nothing's happened. I want to make sure it's filed. I want that deal blocked!"

Cohn, a former president of Goldman Sachs, evidently understood that it would be highly improper for a President to use the Justice Department to undermine two of the most powerful companies in the country as punishment for unfavorable news coverage, and as a reward for a competing news organization that boosted him. According to the source, as Cohn walked out of the meeting he told Kelly, "Don't you fucking dare call the Justice Department. We are not going to do business that way."
Umm, cool story, Gary Cohn. 
Honestly, we're both incredulous and grateful that Mayer seems so disinterested in pretending that Gary isn't the source here. It's like scratching an itch that we couldn't reach for months. This is a great little yarn and it makes The Big Grundle look like a hero of American business and justice. He even said "Fuck" and you know how we love that.
At this point, Gary should just start telling these stories himself on TV. Longform interviews in which Gary shits all over the Trump White House? Talk about getting yourself back into the good graces of The Hamptons social scene... DO IT, Gary!
The Making of the Fox News White House [The New Yorker]