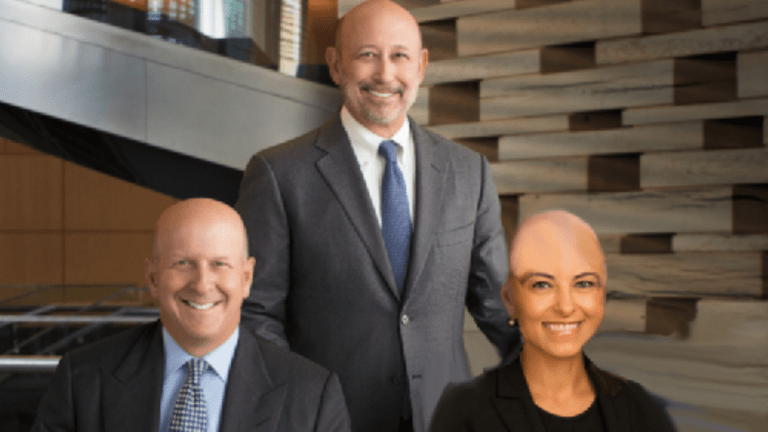 New Policy Ensures That There's A 50% Chance A Future Bald CEO Of Goldman Sachs Will Be A Woman
DJ D-Sol looking to spin way more ladies nights at 200 West St.
After promoting John Waldron, who has a full head of luxuriant hair, to president and COO earlier this year, we assumed Goldman Sachs would sit back and rest on its diversity laurels having finally ended the bigoted practice of letting only bald, white men hold power at 200 West Street.
So color us shocked by this news:
Goldman Sachs expanded a year-old program to hire more workers from underrepresented groups, including goals for black and Latino hires for the first time. 

The firm has set "aspirational goals" of having half of all new analysts and entry-level associates hired in the U.S. be women, 11 percent black, and 14 percent Latino, according to a staff memo sent Monday. The firm set a lower goal for black hires in the U.K., where it is seeking 9 percent level.
And while you might argue that these numbers are gallingly aggressive, we would argue that this is Goldman Sachs we're talking about here. Hyper-aggressively bending reality to make the data work has been a quasi-successful business model over there for a handful of decades now.
Even DJ D-Sol himself is readily admitting that it might take a while to make the analyst ranks fully boy-girl-boy-girl:
While the targets "are aspirational, we have access to an incredible talent pool and believe they can be achieved," CEO David Solomon and two of his deputies said in the memo. "We are also exploring new ways to increase representation of the LGBT, disabled and veterans communities." 
But what is not being addressed in the new policy is the hairless elephant in the room: Bald power. You can get to 50/50 on gender, but the glass ceiling at Goldman is harder to break with hair on your head. 
So we need to ask the question: Why haven't Alison Mass or Dina Powell shaved their head already?
Goldman Sachs says half of all the junior bankers it hires must be women [CNBC]