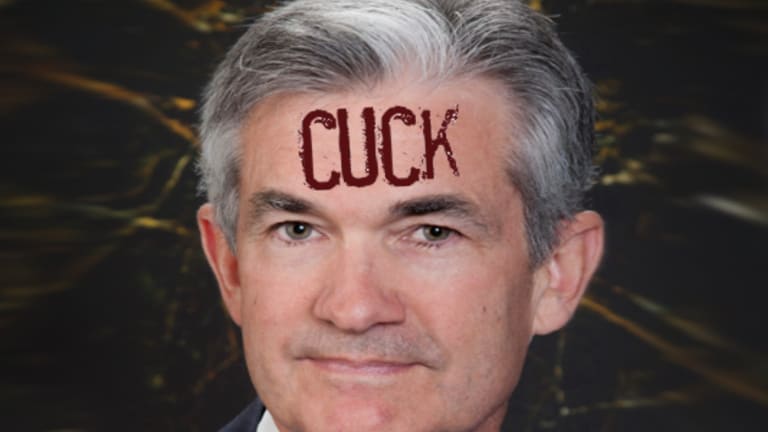 Jay Powell Hates Running The Fed So Much That He's Now Daring Trump To Fire Him On Television
Pack your bags, Jim Cramer, you're getting called up to the big show.
It has become clearer and clearer to us in recent weeks that Jay Powell deeply and truly hates being Chairman of The Federal Reserve.
In addition to being constantly threatened by the guy who actually isn't his boss, Powell has also had to learn a whole new way of communicating his thoughts, been compared to the still-not-late Alan Greenspan, and given speeches to half-empty classrooms at non-Ivy League universities. In short, Jay Powell's "Fun At Work" score is currently somewhere in between LeBron James and R Kelly's lawyer.
So, considering that our current president has the emotional comportment of a television-obsessed adolescent nursing an unmedicated mood disorder, we have to applaud BigPow for one of the most audacious and public pleas to be put out of his misery that we have ever had the pleasure to witness.
In a segment that aired on "60 Minutes" last night, Powell gave his usual quasi-mixed message on the economy, sat with Ben Bernanke and Janet Yellen for a Fed gab sesh, and then attempted a harrowing act of career harakiri by having this exchange with Scott Pelley:
Scott Pelley: Can the president fire you?

Jerome Powell: Well, the law is clear that I have a four-year term. And I fully intend to serve it.

Scott Pelley: So no, in your view?

Jerome Powell: No.
Well, we don't look forward to the coming weeks of moronic melodrama gossip about Trump being obsessed with proving he can fire Powell, clashing with Larry Kudlow and Mitch McConnell about it and then ultimately forcing Jay out in some messy bullshit that only slightly rattles the markets, but we are definitely looking forward to one outcome of Jay Powell's "60 Minutes" interview: Hearing the guy who does the C-SPAN voice-overs say "You are now watching the Senate Banking Committee confirmation hearing of Federal Reserve Chairman nominee James Cramer."
Federal Reserve Chairman Jerome Powell: The 60 Minutes interview [CBSNews]