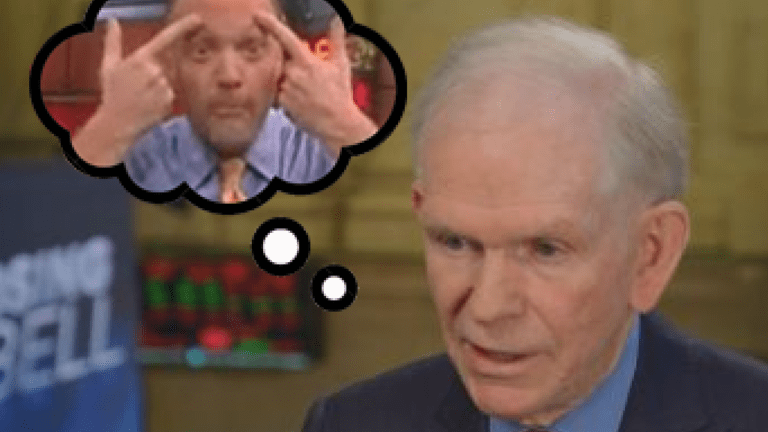 Jeremy Grantham Spends An Entire CNBC Segment Gleefully Pissing On CNBC's Corn Flakes
"Our next guest would like to artfully contradict the point of this network..."
CNBC, a network that spends almost the entirety of its programming day cheering for the stock market to go all the way up, had a fun guest on right before the closing bell today:
Don't expect a massive drop to signal the end of the longest bull market in history, investor and GMO founder Jeremy Grantham said Thursday.

"This will be limping along; three steps down, two steps back. It's not a typical experience," Grantham, who is famous for calling the last two major bubbles in the market, told CNBC's Wilfred Frost.
And Grantham didn't mince words in his attempt to provoke Jim Cramer into one of his makeup room rage fits. The "legendary investor" basically told CNBC's resident Merchant-Ivory character that everyone holding US stocks should just take the paper and burn it for heat when they are cast out to survive upon the coming wasteland:
"You can't get blood out of a stone," he said. "At these prices, even the bears and the bulls and everyone in between at GMO agree that over a long horizon, like 20 years, the U.S. market will be delivering 2 or 3 percent real [returns]. In the last 100 years, we're used to delivering perhaps 6 percent."
And before Hugh Grant's son could reach over and kill his mic, Grantham said this:
"This is not incredibly painful, but it's going to break a lot of hearts when we're right," Grantham added. "Now, if you stay away from the U.S. — which I absolutely would — in emerging markets I think investors can do better than 6 percent, or 8 percent if you're tilted toward value."
But just in case he hadn't set fire to his chance of ever going back on CNBC, Grantham kicked everyone right in the Chinas:
"Emerging markets are the future," Grantham said, noting he is especially bullish on China given its demographic trends. The Shanghai Composite is up 24.6 percent this year, recovering all of its losses from last year.
Pardon us, in lieu of a kicker, we're setting a Google alert for "Jim Cramer Jeremy Grantham."
This bull market will not end with a massive pullback, investor Jeremy Grantham says [CNBC]