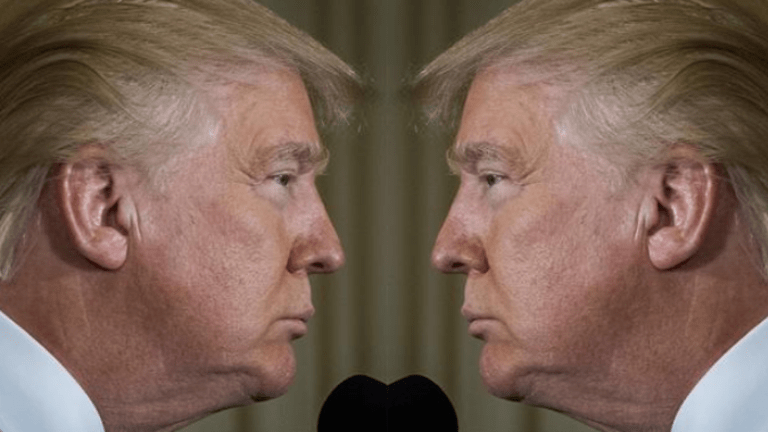 Donald Trump Is So Not The Reason The Fed's Not Raising Rates For A While
It's, like, elevated corporate borrowing or signs of economic weakness or, like, something else.
Given his inability to conceive of things that do not involve him or at the very least reference him, Donald Trump probably considers Jay Powell & co.'s decision to "pause" their rate hikes as being the direct result of his, uh, unorthodox lobbying campaign for the same. A timely piece of evidence that his negotiating strategy can work at a time of several high-profile failures of his usual bullying approach.
The Fed doesn't see it that way. The threatened firing of their boss is not what makes now the right time to chill for a few months, but rather the fact that corporate America is putting a lot of stuff on credit cards these days.
Mr. Kaplan said he was sensitive to the issue of corporate debt because its growth comes at a time where U.S. government borrowing also has increased. "An elevated level of corporate debt, along with the high level of U.S. government debt, is likely to mean that the U.S. economy is much more interest rate sensitive than it has been historically," he wrote….

Mr. Kaplan observed nonfinancial corporate bonds outstanding have risen from $2.2 trillion in 2008 to $5.7 trillion at the end of 2018.

"In the event of a downturn, highly indebted companies may be more vulnerable to seeing their credit quality deteriorate, which could negatively impact their capital spending and hiring plans," Mr. Kaplan wrote.

"If this deterioration were sufficiently widespread, credit spreads would likely widen in order to compensate lenders/bondholders for greater risk," he said, adding "this type of widening would likely be indicative of an overall tightening in financial conditions that could, in turn, lead to a more significant slowing in the economy."
Fed Monitoring Corporate Debt Levels for Potential Trouble [WSJ]
Fed's Eric Rosengren Says Pause in Rate Increases Is Justified Right Now [WSJ]