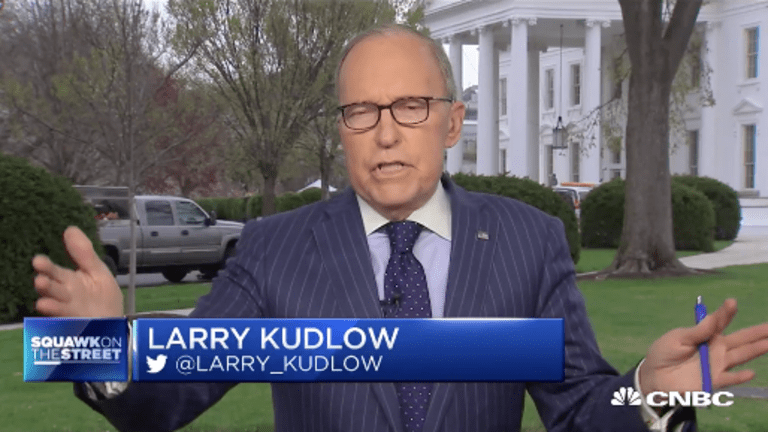 If You've Got An Idea To Solve This Fannie-Freddie Mess, Please Tell Larry Kudlow
He's crowdsourcing.
Resolving the now 11-year-old saga of Fannie Mae and Freddie Mac's conservatorship is a priority for the Trump administration. You can tell this by the fact that it has waited until more than half of the president's term to slip by before announcing a plan, and since this is Donald Trump, by plan we mean a vague order to underlings to figure something out, before something shiny once again caught the commander-in-chief's eye and he forgot what Fannie Mae and Freddie Mac were once again.
The document directs the Treasury Department and Department of Housing and Urban Development to propose reforms for Fannie Mae, Freddie Mac and related programs, and deliver them "as soon as practicable…." Proposals should have "comprehensive" goals to end the conservatorship, promote competition and encourage sustainable homeownership, the White House said, with options the administration could pursue by itself or through congressional legislation.
In spite of the admirable lack of clarity there, getting rid, or really doing anything with, Fannie and Freddie seems about as likely as a big, beautiful, foreign-funded wall from Brownsville to San Diego, what with the divided government and upcoming presidential election and the rampant infighting and rife incompetence of the current White House. But fear not: Larry Kudlow's got this.
The memo says that what's called the Treasury Housing Reform Plan — mostly, the privatization ideas for Fannie Mae and Freddie Mac, as well as the HUD Reform Plan, which centers around the future of the Federal Housing Administration — will be submitted "to the President for approval, through the Assistant to the President for Economic Policy, as soon as practicable."

The Assistant to the President for Economic Policy is Kudlow, more popularly known as the director of the National Economic Council.
Oh yea, baby: Kuddles is back.
Kudlow, who called Fannie, Freddie profit sweep a 'scam,' is at center of White House housing reform plans [MarketWatch]
Trump requests reform plans for Fannie Mae, Freddie Mac [Reuters]
Fannie and Freddie Reform could get snarled in White House infighting [Fox Business]
Wall Street Sees Hurdles for Trump's 'Vague' Fannie-Freddie Plan [Bloomberg]