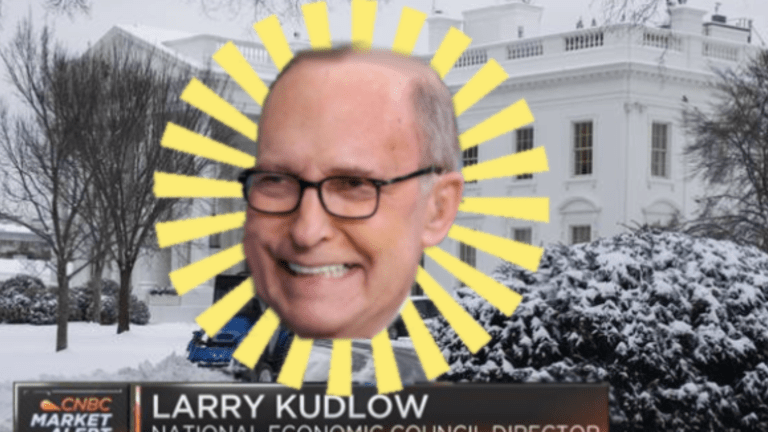 Larry Kudlow - Who Thinks That The Fed Is Independent And That The Economy Is Strong - Demands That The Fed Cut Rates Before It's Too Late
WYD Kuddles?
Remember how Larry Kudlow has made it clear that the Federal Reserve is designed to act independently of White House influence, and also taken pains to prove that the next recession is too far off to be seen by the human mind?
Well, fun development there:
Top White House economic advisor Larry Kudlow wants the Federal Reserve to "immediately" cut interest rates by 50 basis points.

"I am echoing the president's view – he's not been bashful about that view – he would also like the Fed to cease shrinking its balance sheet. And I concur with that view," Kudlow told CNBC Friday.
Oh? That's troubling to hear Kuddles. What are you and the president seeing that would make you take such drastic action as veritably demanding that Jay Powell get his gang to cut rates by such a specific number? Is there trouble ahead, Dearest Larry?
"Looking at some of the indicators — I mean the economy looks fundamentally quite healthy, we just don't want that threat," he added. "There's no inflation out there, so I think the Fed's actions were probably overdone."
So, just advice? Or is Larry Kudlow, maybe the one guy in the White House actually halfway capable of judging the bounce time between a yield curve inversion and an actual economic pullback, realizing that Powell is not panicking at 2.5% growth and could give a solitary shit if things look primed to tank right around Spring 2020? A time period with which Kuddles' boss is rumored to be a bit preoccupied? And Larry's maybe also getting the sense that the batshit stupid nomination of self-professed dipshit Stephen Moore might not actually be a thing that happens, leaving the White House without an unprepared sycophant zealot to drive Jay Powell literally insane from within his own board.
Wethinks this is Kuddles showing his hand a bit. He loves going on CNBC to say anything, but this seems particularly targeted at getting his boss back into the mindset of bullying the Fed into keeping him out of a recession in the middle of an election year. And considering that Trump is looking to spend his possible post-Mueller honeymoon grabbing the third rail of American politics again, so getting the adolescent POTUS to think less about "Obamacare" and more about "No Recession", seems like a cogent gamble from one of his last cogent advisors.
That said, even this version of Larry Kudlow must know that the NEC Director can only go on live TV and act panicky about interest rates before the market starts to respond with some panic of its own.
Get your shit together, Kuddles, we are somehow relying on you.
White House advisor Larry Kudlow says Fed should 'immediately' cut rates [CNBC]