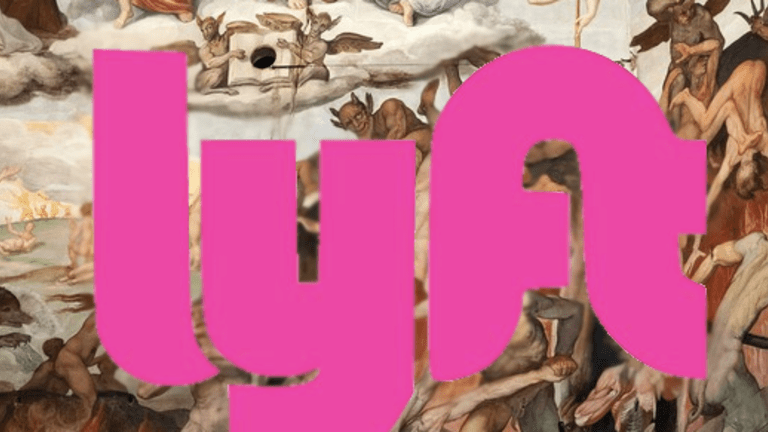 Lyft Stock Opens Trading At You Are All Insane Dollars Per Share
Unless the second-biggest ridesharing app just doubled revenue or halved its spending in the last three days, this feels like a bit of a premium.
Remember when we talked about how Lyft was planning to unveil the biggest IPO in American history despite not being profitable, eager to change, or Uber?
Well, it turns out that the market is so painfully thirsty to look cool and innovative that it didn't give Lyft the $23 billion IPO valuation it was looking for...it gave Lyft so so so much more:
The stock opened at $87.24 a share on the Nasdaq Stock Market , trading under the symbol LYFT. Lyft priced its IPO at $72 a share late Thursday, The Wall Street Journal first reported. Lyft's IPO raised $2.3 billion, marking the first big tech IPO of 2019 in a year that may break records in terms of IPO dollars raised.

That opening price gives Lyft a valuation of roughly $30 billion on a fully diluted basis.
$30 billion! That's like 30x what Lyft loses in a year! Cool!
And with the ridesharing industry in flux, why not throw an obscene amount of money at the company that is dominat-- checks notes -- in second place? And speaking of change, this is where we remind you that Lyft's founders are the latest tech founders to convince people to buy painfully expensive shares in their company, but keep their ideas and opinions holstered:
The founders' performance was especially of interest to potential investors as they will have near-majority control over major decisions despite owning a small percentage of the company's shares.

"To set up for long-term success, you need to provide certain defense mechanisms," co-founder John Zimmer said in an interview. He added that members of his board of directors, whom he declined to name, thought it was the best course of action for the company. "We have investors that were completely aligned and asked for us to have this type of structure," he said.
Oh, we look forward to checking that alignment when Lyft reports losses for the third quarter in a row. And at that point, it will be a lot of fun to see if Lyft goes the full Etsy and a board coup results in turning the entire company into a slimmed-down profit machine hellbent on justifying what's left of its stock price.
But hey, at least this is a watershed moment for American entrepreneurship, a powerful signal that anyone can succeed through ingenuity, hard work, and a metric shit-ton of private equity from fellow underdogs like Henry Kravis, Carl Icahn and General Motors. 
Regardless, congratulations to everyone on a batshit day of spending money on things.
Lyft Shares Open at $87.24, Up 21% from IPO Price of $72 [WSJ]