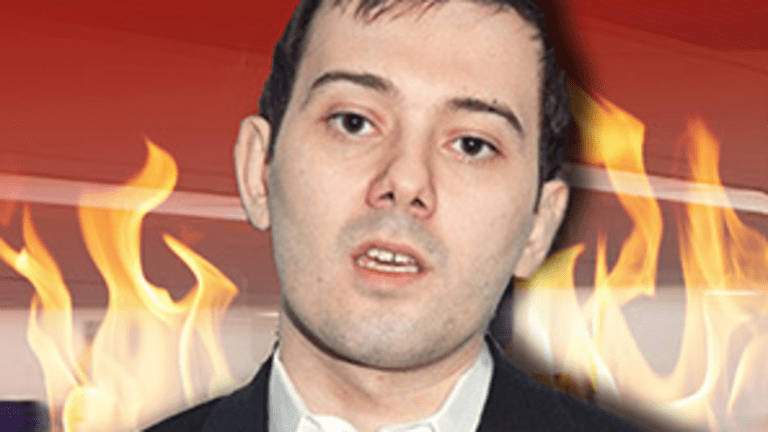 Martin Shkreli "Didn't" Call The WSJ From Prison To Remind Everyone That He Is Still Doing Crimes
Giving a thinly-veiled anonymous interview on a contraband cellphone to brag about how he is illegally running a pharma business from prison reminds us why we miss this guy.
When Jacob Wohl got banned from Twitter a few weeks ago, there was a short volley of chatter on social media regarding whether or not Young Jacob had surpassed Martin Shkreli as the most entertaining disgraced hedge fund manager to be booted off the world's worst website.
We never doubted our choice, but today we were reminded why Martin Shkreli will always be the OG of this very specific game,
Per a spectacular piece in the WSJ:
From a top bunk in a 12-person prison cell in Fort Dix, N.J., Martin Shkreli is at work on a big second act.

Wielding little more than a contraband smartphone, the disgraced pharmaceutical executive remains the shadow power at Phoenixus AG, the drug company that became a national lightning rod for jacking up the prices of rare drugs under its former name, Turing Pharmaceuticals AG. Mr. Shkreli still helps call the shots. A few weeks ago he rang up his handpicked chief executive during a safari vacation—to fire him, according to a person familiar with the exchange.
This is what real commitment to a character looks like, people. Any schmuck can do seven years for securities fraud. It takes a diamondique-level of manic capitalist super-villain brilliance to relaunch your business from the inside and then call The Wall Street Journal from your cell to gossip about how easy it is.
Jacob Wohl is an amateur. Martin Shkreli is a Millennial Lex Luthor.
Just ask "a source close to him":
Mr. Shkreli reads about research into fatty acids and the prevention of cardiovascular disease in the inmate computer lab or on his phone. He cuts his own hair with safety scissors and is growing a patchy beard. The low-security federal correctional institution is built on the grounds of an old army base about 90 minutes from Mr. Shkreli's former multimillion-dollar Manhattan penthouse.

He has made prison friends, including "Krispy" and "D-Block," some of whom affectionately call him "Asshole," according to people familiar with his new life. They walk alongside him in the hall to ward off shenanigans from other inmates. For reputational reasons they persuaded him to turn down a gig playing guitar in a prison band because the other members were locked up for child molestation.
You can go ahead and read that last paragraph again. It's even better the third or fourth time.
But it gets even better:
The prison warden denied a Wall Street Journal reporter's request to visit Mr. Shkreli, citing "safety and security concerns." The prison inmate handbook says: "Conducting a business, in any way, is a prohibited act." A spokesperson said the Bureau of Prisons "continues to tackle the problem of contraband being introduced into our facilities, including contraband cell phones."

For Mr. Shkreli, 35 years old, the risk is worth it. He plans to emerge from jail richer than he entered.

His back-of-the-commissary-envelope calculation indicates that Phoenixus could be worth $3.7 billion by the time he is due to be freed in 2023, according to a person familiar with his thinking. His plan involves acquiring more rare drugs in various stages of development and plowing money into an ambitious research-and-development agenda.
According to the story, everyone Phoenixus, including some furious investors, know for a fact that Shkreli has a contraband cellphone in his cell that he uses to effectively run a company that he is legally barred from running, and also doing stuff like this when people try to subvert him and sell the company:
Investment bankers who examined the company's books had less rosy assessments than Mr. Shkreli's $500 million valuation. Mr. Shkreli blocked at least two offers to acquire the company, one for around $100 million.

After one person involved in the nixed sale expressed misgivings to others, he received a text message from an unlisted number that couldn't be traced. "You like talking to people about Turing? Bad. Bad. Bad. Bad. Bad. Bad. Bad. Bad. Bad. Bad. Bad. Bad. Bad. Bad. Bad. Bad. Bad," the message read. "We are watching and listening."
Umm, that's just awesome. Almost as awesome as what Martin Shkreli is becoming inside the penitentiary:
From prison, Mr. Shkreli phoned in advice to company officials when he could. He hasn't always been plugged in. He spent a few weeks in solitary confinement for unspecified violations and suffered a painful infection after needing dental fillings. Perennially slight of build, he has gained weight and plans to begin a weightlifting program, says Christie Smythe, an author writing a book about Mr. Shkreli who has visited him several times in prison. He can now do 15 push-ups in a row.

He has seen a prison therapist and taken on the job of caring for prison cats. He occasionally argues with his cellmates about proper grammar.
So if you were wondering if life in prison has changed Martin Shkreli, the answer is "Yes, it has." But he isn't humbled or more fearful of the forces that seek to rein him in, no, Martin Shkreli remains unrepentantly himself, he's just a slightly swole-er cat daddy version of the man we came to know and performatively hate.
We just hope Martin can read this after they toss his cell and take away his internet privileges because he should know that he remains a giant of his own game.
Martin Shkreli Steers His Company From Prison—With Contraband Cellphone [WSJ]