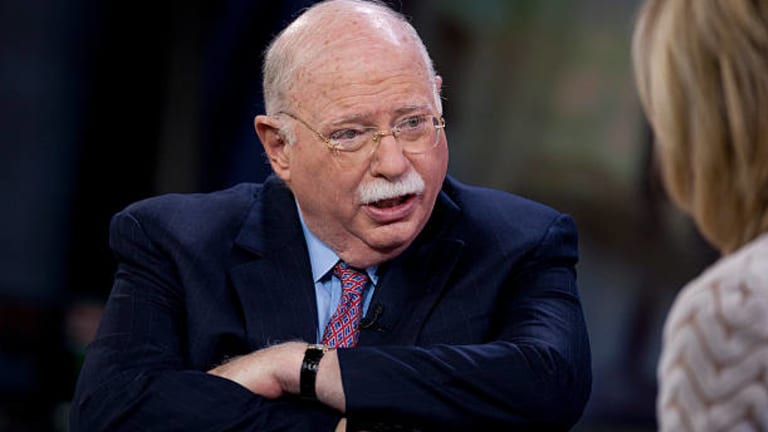 Michael Steinhardt A Failed Borscht Belt Comedian, Matchmaker, Definitely Not A Sexual Harasser, According To Michael Steinhardt, Friends
You broads asking him for money need a better sense of humor!
Retired hedge fund legend Michael Steinhardt was always something of a comedian. Back in his heyday, he liked to mess with underlings by calling them minutes before the close, ordering them to buy a bunch of stock whose name he'd purposely gargled, and then tell his assistant to tell the hapless trader calling back for clarification that he was on the can. Hilarious, we know. But Michael Steinhardt is now 78 years old, and his brand of humor hasn't aged well.
He said he regretted that he had made comments in professional settings through the years "that were boorish, disrespectful, and just plain dumb." Those comments, he said, were always meant humorously…. Provocative comments, he said, "were part of my schtick since before I had a penny to my name, and I unequivocally meant them in jest. I fully understand why they were inappropriate. I am sorry."
So, what else is in his schtick besides torturing traders?
Ms. Katz said she was hoping Mr. Steinhardt would become a funder of her work at Hillel when she met with him in his Fifth Avenue office in 2015 to interview him for a video Hillel had commissioned about Jewish entrepreneurs. But she said that as the filming got underway, he repeatedly asked if she would have sex with the "king of Israel," which he had told her was his preferred title for the video. He then directly asked her to have sex with him, she said.

When she turned him down, he brought in two male employees and offered a million dollars if she were to marry one of them, she said. After the filming ended, Mr. Steinhardt told her it was an "abomination" that a woman who looked like her was not married and said he would not fund her projects until she returned with a husband and child, said Ms. Katz, who has not previously spoken publicly about the incident.
A knee-slapper, that one. Why isn't this man writing for The Marvelous Mrs. Maisel?
Ms. Goldberg, the director of communications for Birthright from 2001 to 2010, said she was used to Mr. Steinhardt being "inappropriate." Still, she was shocked when Mr. Steinhardt suggested that she and a co-worker at a donor reception in Jerusalem join him in an intimate encounter…. Two women who worked at a small Jewish nonprofit recalled Mr. Steinhardt using similar language in 2008. They both said that during a meeting at his office to make a pitch for funding, Mr. Steinhardt suggested that they all take a bath together, in what he called a "ménage à trois."
That's gold, Mikey! Gold!
During one meeting at his office to brief him about the organization, he suggested that he could set her up in a Park Avenue apartment and that they could have redheaded babies together, Ms. Goldfein said….

Karen Simons, an employee, said in her 2013 lawsuit that in one instance, Mr. Steinhardt asked over the phone whether her husband satisfied her and asked her to have sex with him, the suit alleged.
Seriously, what's not funny about that?
She was 27 years old, and it was the first time she had met Mr. Steinhardt. He harangued her about being unmarried and said she should put her vagina and womb "to work," Rabbi Sabath said. He then suggested she become a "pilegesh," an ancient Hebrew word for concubine, she said.
A bit on the nose, but let's hear more about Steinhardt's effort to single-handedly save the Jewish people by haranguing them into getting hitched, or at the very least to produce someone he could send on a free trip to Israel one day.
Some of Mr. Steinhardt's most prominent philanthropic efforts are centered on encouraging Jews to marry other Jews and strengthen their ties to the community…. Mr. Steinhardt, who is married with three adult children, is known to goad single Jews into kissing, dating or marrying, and to insist that Jewish women have children, sometimes offering money or the use of a Caribbean home as an incentive, dozens of people said….

Another woman who was a fellow at the institute at the time, Rabbi Dianne Cohler-Esses, said she did not witness that conversation. But she said Mr. Steinhardt had separately suggested, in a meeting at his office that year, that she should date a married rabbi at the institute….

"Michael is very passionate, and he is passionate in everything," Abraham H. Foxman, a longtime friend of Mr. Steinhardt's and the former head of the Anti-Defamation League, said of Mr. Steinhardt's matchmaking.
Well, if you say so Abe, I guess it's fine.
Michael Steinhardt, a Leader in Jewish Philanthropy, Is Accused of a Pattern of Sexual Harassment [NYT]