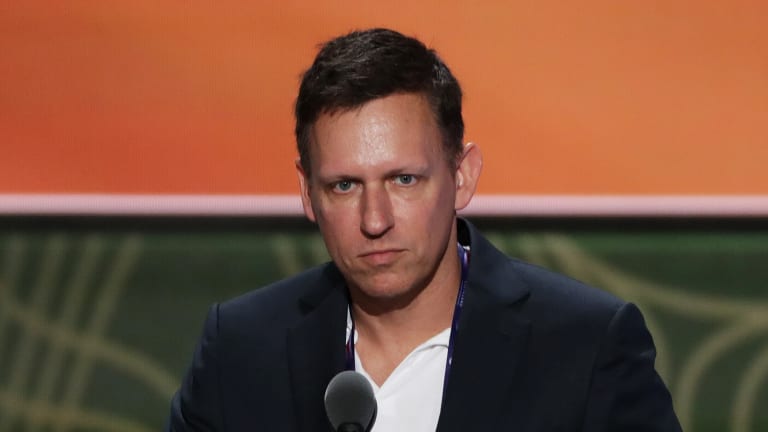 Opening Bell 3.28.19
Palantir's CEO out here looking like he hosts 'Ancient Aliens' ...
Start your day with the Opening Bell powered by The Water Coolest. The Water Coolest is the preferred bathroom stall reading material of finance professionals. Sign up for the free daily newsletter.
ENLISTED
Palantir has been awarded a major government contract with the Army marking the first time a Silicon Valley-based software company will lead a "defense program of record."
A defense program of record designates a contract with dedicated funding from Congress and is the largest and longest duration government contract awarded by the Pentagon. Simply put, Uncle Sam does not give these contracts to just anyone.
This $800M contract will call for the Peter Thiel founded firm to build an Army Distributed Common Ground System (DCGS-A), an intelligence system that allows users to gather information real-time about enemy movements and terrain in remote environments. In other words, hardware and software which will facilitate the US Army putting a boot in the ass of America's adversaries.
Palantir and Raytheon were announced as finalists for the contract last March. The two companies then live tested their respective products with soldiers which helped the Pentagon make a decision on the winning design.
Anything else?
As a matter of fact, there is. The US government has historically commissioned custom products for its contracts. That is until 2016, when Palantir successfully argued that its commercially available software would be cheaper and checked all of the government's boxes.
A court ruling in Palantir's favor stipulated that the government was legally obligated to consider purchasing commercially available products in addition to made-to-order "things that go boom." Luckily for Palantir, extensive, complex (and sometimes, controversial) software design work in the private sector has translated to the defense space.
This hefty contract and the publicity that comes with it will surely come in handy as Palantir is set to IPO later this year.
Peter Thiel's company Palantir just won a major Pentagon contract, beating out traditional military vendors [CNBC]
IN OTHER NEWS
- Theresa May is willing to take one for the team
- Facebook bans white nationalists
Sign up to receive The Water Coolest. Blue-chip daily business news delivered to your inbox every AM.