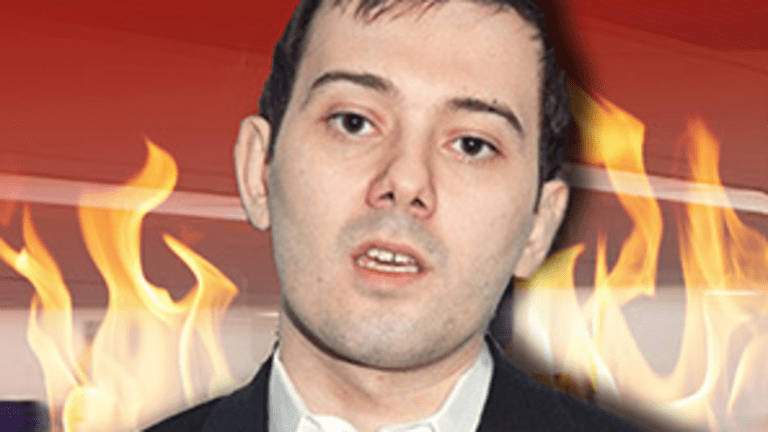 Opening Bell 3.8.19
Martin Shkreli and Bernie Madoff out here living their best lives ...
Start your day with the Opening Bell powered by The Water Coolest. The Water Coolest is the preferred bathroom stall reading material of finance professionals. Sign up for the free daily newsletter.
Oh, and BTW, The Water Coolest and Dealbreaker are giving away a Johnny Wall Street Starter Kit:
1x Patagonia Better Sweater Fleece Vest
1x pair of Birddogs shorts
1x JUUL Starter Kit
AIN'T NO REST FOR THE WICKED
Looks like #FreeShrkreli might be more than fin-bro rallying cry after all ...
The pharma bro, currently serving 7 years behind bars, is apparently running his pharmaceutical empire from the cell block with the use of a contraband cell phone. Shkreli who continues to Tweet and blog from "inside" is living that Henry Hill life in the clink with the finger on the pulse of his Phoenixus AG (formerly Turing Pharma) ... even firing the interim CEO recently.
Inmate 87850-053 is fending off corporate raiders and shareholders who are clamoring for Shkreli's ownership stake in an attempt to sell the company. But alas the most hated man in America perseveres, pursuing new drugs in the pipeline and seeking a massive $3.7B valuation by the time he's a free man. 
In fact, he often spends his time reading pharmaceutical research and discovering what drugs he can develop to price gouge the public next.
Welcome to the good life
But those aren't even the most shocking revelations in the WSJ's expose on Shkreli's time spent trying not to drop the soap.
- "Perennially slight of build, he has gained weight and plans to begin a weightlifting program ... He can now do 15 push-ups in a row."
- "He has seen a prison therapist and taken on the job of caring for prison cats." How dare you cheat on Trashy!
- "He has made prison friends, including "Krispy" and "D-Block," some of whom affectionately call him "Asshole."
No word on who has made Shkreli their prison b*tch yet ...
Martin Shkreli Steers His Old Company From Prison—With Contraband Cellphone  [WSJ]
IN OTHER NEWS
- ECB to add more stimulus to economy
- Long Blockchain (formerly Long Island Iced Tea company) is selling its tea biz
- Tim Cook has a new name ... on Twitter
Sign up to receive The Water Coolest to get daily business news delivered to your inbox every AM.