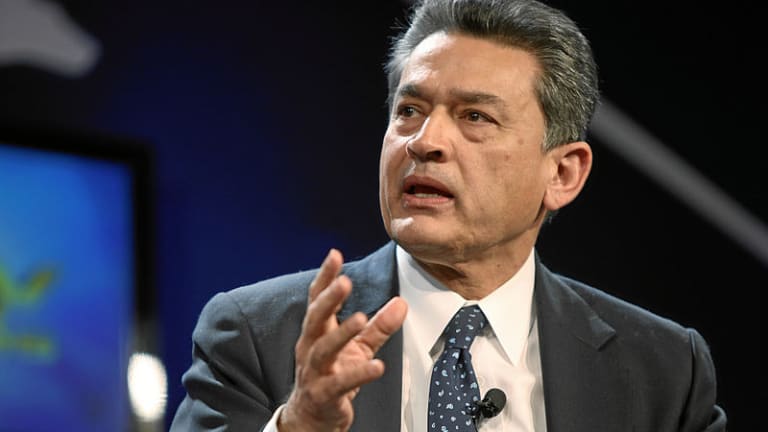 Raj, Rajat Cool With Each Other. With Preet Bharara? Not So Much
Forgiveness for the people who put you behind bars only goes so far.
In one of those exquisite ironies with which the universe occasionally give us, when time came for the Federal Bureau of Prisons to decide where former McKinsey & Co. chief and convicted insider trader Rajat Gupta should spent two years, it placed him in the very same minimum security resort that also housed (and continues to house) the man whose loose lips got Gupta into this mess in the first place: Raj Rajaratnam. This had the potential to be a bit, well, awkward. And indeed, things were awkward, with DealBook reporting that, while the two men exchanged occasional pleasantries, "their friendship is irrevocably broken."
That, however, was way back in 2015. Four years later—three years after Gupta walked out of Devens a free man—DealBook is back to correct the story.
"I told him, 'Raj, I am here because of you,'" Mr. Gupta told me. The men did not shake hands. "He's not the apologizing type, so he didn't say, 'I'm sorry.'"

The two men strolled around the grounds. Then something weird happened.

"I forgave him," Mr. Gupta said….

"We played Scrabble in prison together. We played chess. We had breakfast together," he told me. Most of their conversations were about "prison stuff, you know?"…

"I have to give him an extraordinary amount of credit," Mr. Gupta told me near the end of our conversation. "Because he could have easily testified against me, made something up."
Hard time heals all wounds. Also, shared loathing of someone not observing the South Asian Bro Code.
"Sometimes we'd talk about Preet Bharara," Mr. Gupta added…. Mr. Rajaratnam, who was sentenced to 11 years in prison, "was obviously quite mad at him," Mr. Gupta said.

Mr. Gupta is mad at Mr. Bharara, too. His book is filled with critical asides about Mr. Bharara and what Mr. Gupta believes was his prosecutorial overreach.

"Go after the hedge funds and their circle, play up the story in the press, and maybe no one would notice that the big banking executives were continuing to walk free," he wrote. "That I, like many of those guys he targeted, was a fellow Indian only burnished his tough-guy aura."
Especially since, in spite of, well, everything, Gupta still insists he did nothing wrong. He didn't even talk to Rajaratnam 23 seconds after that Goldman board meeting, not that there would have been anything wrong with it if he had. This strains even Andrew Ross Sorkin's credulity, but, really, what does Rajat have to lose?
He gives a full-throated self-defense in the book that is fuller than the one the jury heard, much of the outlines were already heard — and rejected — in court. The book requires the reader to suspend disbelief in the judicial system. Some readers may sympathize with him while others may find his arguments unconvincing….

Mr. Gupta insists that the prosecution's narrative is wrong. He says that he doesn't remember speaking to Mr. Rajaratnam after the Goldman board meeting — maybe, he says, he spoke to his secretary — and that, if he did speak to Mr. Rajaratnam, he certainly didn't divulge the pending Buffett news.
Rajat Gupta Is Unrepentant for His Crimes [DealBook]