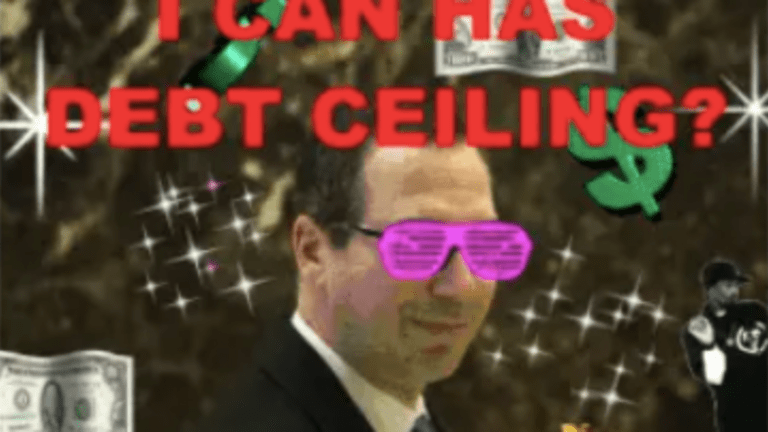 Steve Mnuchin Will Deploy His Chiseled Good Looks And Potent Charisma To Get Nancy Pelosi To Raise The Debt Ceiling
Hey, you use what you...got(?).
Remember the last time Steve Mnuchin needed a little room with the debt ceiling so he asked Congress to "do it for me"?
And then Congress was all "Are you fucking high?"
Well, Mnooks needs another bump in his allowance budget, and this time even he is self-aware enough to look at this new Congress and realize "These people do not like my face." So the Zelig of 21st Century financial malfeasance is using a new tactic to get a new, thicker checkbook from Congress.
He's going to cajole and threaten Nancy Pelosi.
Here's Mnuchin's letter to Pelosi last week warning that unless he gets a new debt ceiling, shit will hit the fan on... *checks notes*... today!
Ah, yes, this is much better. This will definitely work. After the shutdown and all the buffer built in after the last two of these stupid showdowns, this new Congress will almost definitely leap from their seats to grant the wishes of a man who personifies everything it hates about the Trump administration. Because Steve is no longer dealing with that intellectual eunuch, Paul Ryan, he's now dealing with Nancy Pelosi. And underneath the tough exterior, Nancy is just a human woman with working vision, so how long can she be expected to resist the coming charm offensive from the most authentically charismatic and matinee idol handsome Treasury Secretary in American history?
Honest to god, how do you not see this face and give it all the money?
LOL. America will never pay another bill.
In fact, we'll lay even money right now that Steve Mnuchin is under investigation by the House of Representatives before it grants him one solitary thing per his "encourage"ment. Honestly, the best way for Steve Mnuchin to get what he wants politically going forward is to have someone else ask. Mnuchin relying on his charm and likeability is like Elon Musk relying on his personal judgment. 
Anyway, best of luck Stevie.