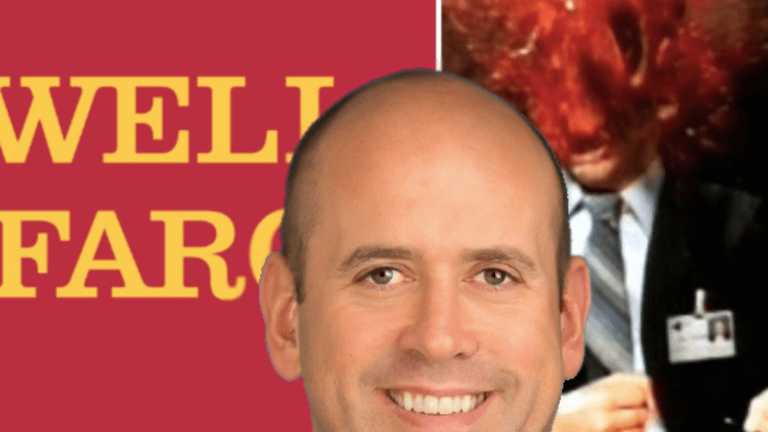 Wells Fargo Hoping A Noted Knife-Wielding Control Freak Can Save Its Bacon
Harvey Schwartz is newest rumored savior of The Stagecoach.
A lot of people watched Tim Sloan's performance in front of Congress last week and thought "Wow, Wells Fargo really should have made that Gary Cohn thing happen."
Two things have become irrefutably clear over the last few months; Wells Fargo is still a disaster and Tim Sloan will never be seen as the change agent the bank needs...because he isn't, and because he doesn't seem to even want to be. It made total sense to us that Wells Fargo went hard after Gary Cohn to wrest the reins from Sloan a few months back, and it confused us that Wells did not keep up the search for a new CEO after getting negged by The Big Grundle.
But, according to the NY Post, it now seems that Wells was just making a run at Gary Cohn Lite:
Members of Wells Fargo's board are in talks with Harvey Schwartz, the former president and co-chief operating officer of Goldman Sachs, to take over as the bank's next chief executive, The Post has learned.

Schwartz — who last year lost a race against David Solomon to succeed Lloyd Blankfein as Goldman's CEO — is in discussions with the nation's third-biggest bank to take the reins from Tim Sloan, according to two people briefed on the talks.
Big Harv, back in the game! And this makes sense to us. A Goldman-trained, former butcher boy knife enthusiast who is notoriously obsessive about controlling everything under his purview? Not an ideal chief executive for every situation, but almost tailor-made for today's Wells Fargo.
There's only one hitch...well, maybe two:
"The issue is that he does not want to move to Charlotte or San Francisco," one source said, noting that Wells Fargo's East Coast headquarters is in Charlotte, North Carolina.

Schwartz also is thinking about starting a family investment office with Pablo Salame, the former co-head of Goldman Sachs' securities division who also left last year after Solomon took the helm, according to the source.
Well, we can solve the first one. Just do a BriMo and live at home in a city far north of HQ but commute down on a private jet to Charlotte for a workday or two, then back home or wherever else you need to be. Hey, you might even take the plane to San Francisco once every few weeks to fire a bunch of people. So that's one down.
And as to the other, Harvey has earned the right to kick back and do some family office bullshit, rolling his vast Goldman earnings into more money, but does he really want to semi-retire now? At only 54? And does he really want to do with it the "Just Add Butter" guy? Salame made a lot of money at 200 West Street, but he hardly left the table on a hot streak. Wells Fargo is desperate for someone to come over and fix shit right quick, so we can only assume the board is willing to throw serious upfront money at the person it thinks it needs, and we won't even get into how much the new CEO of Wells could make on free equity if they actually manage to turn the place around.
If only there was some indication that we're not getting our hopes up here, a sign that this was actually going down...
Oh, you have something, Bloomberg?
"Rumors that Wells Fargo's board of directors reached out to potential CEO candidates are completely false," Betsy Duke, the bank's chair, said in an emailed statement to Bloomberg. "Tim Sloan has the unanimous support of the board, and this support has never wavered."
Holy shit, you guys, Harvey Schwartz is gonna go run Wells Fargo!
Wells Fargo in talks to hire Harvey Schwartz as its next CEO [NY Post]
Wells Fargo Reiterates Support for Tim Sloan on Report of Harvey Schwartz Talks [Bloomberg]