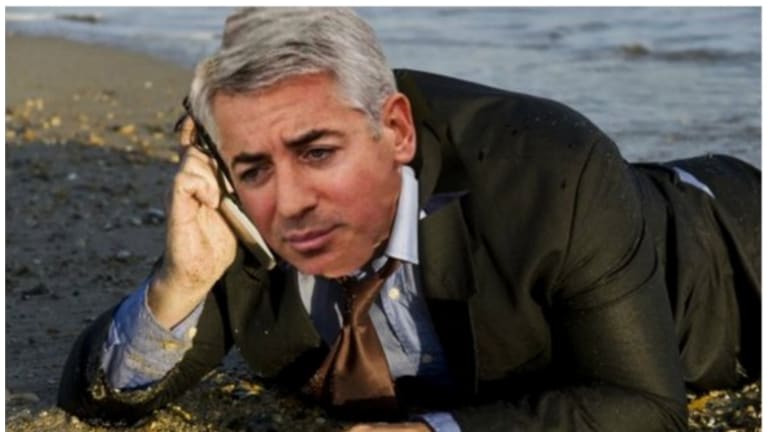 All Bill Ackman Had To Do To Stop Losing Money Was Read A 50-Year-Old Letter From Warren Buffett
Pershing Square investors past and present may wonder what took him so long, but he got there, and that's the important lesson of his spiritual journey.
He's had his differences with the Great Man, but Bill Ackman still considers himself a devotee of the Oracle of Omaha. And so, during his most trying times, during his long, dark night of the soul losing billions on a diet-shake pyramid scheme and what Charlie Munger called an "immoral" pharmaceutical company, Bill turned to his True North, his unwitting and unwilling mentor, his Bible: the words of Warren Buffett. But not the cheap, randy annual missives you perverts get all hot and bothered about. No: Ackman seeks his inspiration in the deep cuts, Buffett's letters to investors in the Buffett Partnership, the proto-hedge fund he ran before deciding to focus full-time on turning the failing New England textile company he bought out of spite into a money-printing insurance-utilities-underwear-real-estate-furniture -truck-stop-candy-and-milkshakes conglomerate.
And do you know what Ackman found therein? He found a way forward, a new clarity, a fresh approach to managing money. He found salvation. And even though he's not talking to the press, he will talk to rooms full of people from the press, to explain the highly non-obvious lesson to be drawn from Buffett's decision.
"I think it's instructive. And, I think what Mr. Buffett realized in 1969 is that being a longterm investor with short-dated capital is just ultimately going to lead to a bad outcome at some point in time," the hedge fund manager said.
That bad outcome, as indicated above, was Valeant and Herbalife and countless other money-losing investments. And one of the reasons they were money-losing is because the people Ackman was losing money for kept annoying him with their dumb questions like, "What the hell are you doing?" and, "Hey, asshole, seriously, what the fuck?"
He said that "part of the reason we made that mistake is when you start as a hedge fund manager you start as an investor, particularly if you're an activist investor. When you get to $20 billion in assets, you become the CEO of an assessment management business, something I never really aspired to be."

At that size, investors will "appropriately" take a piece of your time.

"Because Mr. Smith who gave you $250 million wants to say, 'Hello," Ackman said.

"Those little breaks over the course of the day really interfere with your ability to dig in, read a 10K, etcetera," he added. "We just made the decision we are going to stop marketing. We are certainly going to answer those calls and keep our investors informed…."

"For a while there, we forgot that our main job was to make money, so we woke up, and now we're back in the money making business."
And do you know what? Ackman's Andy Dufresne-style journey through not-so-solid rock and raw sewage had a benefit beyond personal enlightenment and becoming the man he needed to be to meet the love of his life and steal her from Brad Pitt: It also allowed him to achieve his dream of having more permanent capital than fickle investor capital. Granted, that happened because of all the redemptions and not because Pershing Square Holdings has been particularly attractive to investors other than himself, but it happened all the same, and one day, Ackman's pretty sure that the people who abandoned him in his time of need will feel as stupid as those who decided they didn't want any shares in a failing industrial concern.
In May 1969, after several years of outperformance, Buffett told his investors that he would close the partnership, pointing to an investing environment that had become "more negative and frustrating."

In the letter, he offered the partners the option to take their cash out, or keep their investment for shares in the textile company Berkshire Hathaway.

"A bunch of people wanted cash and spent another 50 years seeing their therapists for one of the dumber decisions that they made," Ackman said this week.
Bill Ackman thanks Warren Buffett for Pershing Square's turnaround [Yahoo Finance]