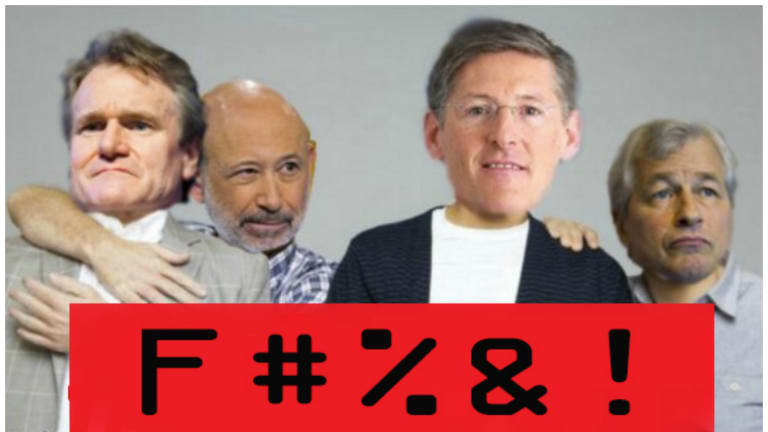 House Democrats Bungle Bank CEO Hearing So Badly That Lloyd Blankfein Somehow Wins The Day
This was a true waste of everyone's time.
Today has offered us the chance to gaze at more than one black holes.
We've sat through a few House committee hearings in our day [allow us to brag], so we're rarely surprised when the whole thing reveals itself to be an incredible waste of everyone's time, but even we are left a little gobsmacked by what we've watched for over six hours.
The House Financial Services Committees has called in the CEOs of six major banks - Bank of America, Bank of New York Mellon, Citigroup, Goldman Sachs, JPMorgan Chase, Morgan Stanley, and State Street - and proceeded to ask them a plethora of questions that range from barely useful to abstractly stupid. As we watch and type, the only people that remain capable of escaping this hearing without looking worse are Jamie Dimon, Jim Gorman, and Lloyd Blankfein [not a typo].
Democrats and Republicans spent the entire agonizingly long hearing by trading lame and dumb volleys at the assembled CEOs, focusing hardest on Jamie Dimon and Brian Moynihan, ignoring the CEOs of State Street and BNY Mellon [you don't know their names...don't Google and lie], and seeming confused that there was a new bald white guy running Goldman.
Dems seemed hellbent on reminding everyone that 2008 happened and that the six white men sitting in front of them were indeed white men. GOP members of the committee focused entirely on asking if they can help blow up regulations and pretending to understand Brexit. There were other questions, but they were too dumb to even mention.
There are real concerns on the US economy right now, and bank CEOs would probably like to discuss them (Jamie, DJ D-Sol and Jim Gorman actually shoehorned in a few cogent thoughts) but the partisan rancor that personifies the Trump era has clearly made Congress the last place to have those discussions.
Today's hearing was so mind-numbingly useless that the person who came away looking best was someone most notable by his absence; dear old Uncle Lloyd Blankfein...
That was the actual highlight of our day spent watching the empty nightmare that was this hearing. 
And to all members of the House Financial Services Committee we say this: 
At no point in your rambling, incoherent questioning were you even close to anything that could be considered a rational thought. Everyone in this room is now dumber for having listened to it. We award you no points, and may God have mercy on your soul.