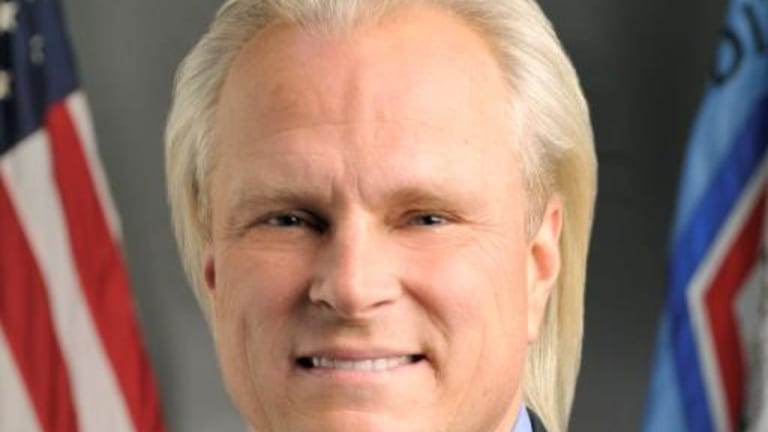 The Best Head Of Hair In The History Of Securities Regulation Is Dead
Rock in peace, Bart Chilton.
The most extravagant coif to ever seek to rein in the excesses of American securities trading is no more. Bart Chilton, for seven years a silver- (and occasionally sharp-) tongued member of the Commodity Futures Trading Commission, has died at the far, far too young age of 58.
Chilton was much more than a spectacular mane of flowing flaxen—and later steel-colored—locks. He was a swirling tour-de-force of similes, metaphors and aphorisms. He was a dedicated warrior in the fight against swaps skullduggery. In another life, he might have been a stand-up comic. In the one we were lucky to get, he was the kind of senior regulator and later biglaw partner who decorated his office with a lava lamp, blasted some rockin' tunes and stood there looking like someone who just walked off of the cover of a goddamned Harlequin Seniors romance novel. He is irreplaceable.
Mr. Chilton parlayed his force of personality into attention for regulatory issues that might otherwise have been overlooked. He took a special interest in trying to reimburse customers whose funds were held by the brokerage firm MF Global Holdings Ltd. when it failed in 2011, peppering his speech with rock lyrics to get his point across….

"He took more risk than most politicians to achieve his sincerely held views," said Scott O'Malia, who served as a CFTC commissioner alongside Mr. Chilton. "He was both authentic and an original…."

"Walking into Bart's office was always a joy," Mr. Gensler said, noting that the cowboy boot-clad Mr. Chilton would usually have rock music playing on the stereo as he worked. "He approached his time in public service with such zest."
Since then, he's been no less interesting, going to bat for the kinds of things that such a guy might go to bat for, like the high-frequency trading he decried when on the CFTC and, uh, other stuff.
In recent years, he took on a variety of disparate projects: backing an oil-based cryptocurrency, hosting a show on the Russian state-funded foreign television network RT, and a stint at the law firm DLA Piper.
Shine on, you crazy, beautiful diamond.