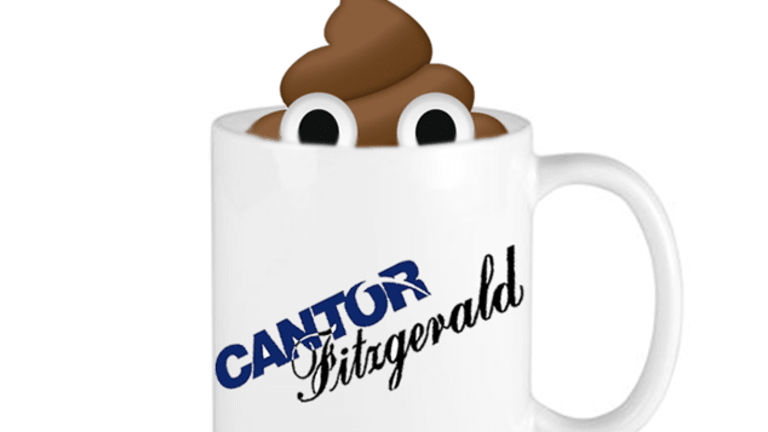 Former Cantor Fitzgerald Broker Now Free To Tell Jurors About That One Time A Co-Worker Took A Dump In Her Coffee Mug
Arbitration will not protect Cantor's New Jersey office from being synonymous with mean-spirited office kitchen scat play.
We've made our opinion on women on Wall Street being forced into arbitration after alleging harassment by their co-workers pretty clear. Basically, our stance is that it's morally problematic to silence these women in exchange for the monetary compensation that they likely deserve, and also that it's very bad for our business because we are Dealbreaker and these arbitrations are just lost content from which we will never benefit.
So it pleases us to see that some judges are letting some pretty fascinating and disturbing stories of workplace harassment in finance come to light. 
Take for instance this literally very scatological tale from one former bond saleswoman at Cantor Fitzgerald:
Lee Stowell couldn't find her Bernie Sanders mug.

It was August 2016 at the Summit, N.J., outpost of Cantor Fitzgerald, the Wall Street brokerage. The tension in the office was becoming unbearable for Stowell—and not only because her colleagues couldn't stand the rumpled-haired socialist on her mug. For a while, work had felt like a throwback to the early days of her career, when traders could spew invective with impunity, and women had to stomach it or find a way to hold their own.

Stowell scanned her desk, then took her hunt to the kitchen. She opened a cabinet, saw Sanders staring back at her, and reached for the mug. "I looked in," she tells Bloomberg Businessweek. "There was feces in it."
Just doing the math here, and it appears that it took Sage Kelly about six months to help his new colleagues feel comfortable taking an actual shit in a co-worker's coffee mug.
We kid, we kid...Sage was never into scat play as far as we know.
Sure, we are taking a ludicrous amount of puerile pleasure in a story about someone dropping a deuce in a Bernie mug, but we're also a little psyched that Sowell avoided being forced into arbitration here. It's a good sign for the moral pendulum of Wall Street's delayed #MeToo reckoning and very good for whatever it is we do at this cursed website. Even this story alone has grosser and more culturally nightmarish layers: 
"I wasn't going to give in to them," she says of her former colleagues, remembering the morning when she found her mug, a Mother's Day gift, with poop in it. "I was like, you know what, if I make a big deal about it, they're going to love it."

Stowell, a single mom of six, cleaned it out and eventually filled it up with coffee again. "Of course I did," she says.
So next time you're saying to yourself that you don't want to have to hear stories about a woman in finance who has risen to a senior role drinking coffee from a mug that had someone else's shit in it just to prove that she belongs after working decades in the business to support her children by herself, just remember: of course you do.
Cantor Fitzgerald Doesn't Want This Woman Talking About Her Mug in Court [Bloomberg]