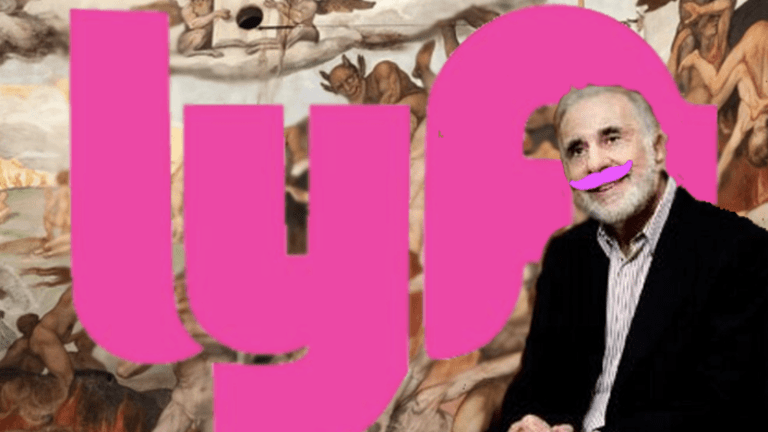 Of Course Carl Icahn Cashed Out Of Lyft Before The IPO Imploded
Did you really think that Uncle Carl would fall for this bullsh!t?
The Lyft IPO has gone almost exactly as we predicted. Which is troubling, because we are idiots.
Seeing so many people lose so much money as this happened was a pretty wild thing to witness:
But we were also struck by who was - to the best of our severely limited knowledge - being taken for this ride. Not the Silicon Valley VCs; those guys play themselves literally all the time. And not the people who bought at the open; those people were snookered by their own yearning to be part of "Something." And especially not the people inside of Lyft; they bought their own bullshit.
We were struck by the Jedis who seem to have gotten played. Lyft had some pretty impressive pre-IPO investors, one of them being a man whose very essence provokes breathing to turn shallow, skies to darken and young children to run inside...
Lest we all forget, Carl Icahn had a stake in Lyft. And it felt almost impossible to us that he was part of this Hindenburg market entrance.
Probably because he wasn't:
Billionaire investor Carl Icahn sold his roughly 2.7% stake in Lyft Inc. ahead of the ride-hailing company's initial public offering last week, according to people familiar with the matter.

Jonathan Christodoro, a former Icahn Capital LP managing director who sat on Lyft's board until last month, connected Mr. Icahn with the buyer of the stake worth roughly $550 million at the IPO price, some of the people said. The buyer's identity couldn't be learned.
OF COURSE!
Did any of us really believe that Carl Icahn was sweating the Lyft IP-nO? He's Carl Icahn. The man is immune to losing:
The exact timing and motivation for Mr. Icahn's move weren't clear, though he had held the stake for roughly four years—a relatively long period for him. The activist investor, who rarely invests in private companies, had been unhappy with Lyft's plan to use supervoting shares to give its two founders near-majority voting rights, some of the people said.

It isn't clear what price Mr. Icahn got for his shares, but the investment was sure to be a successful one for the 83 year-old. He had invested roughly $100 million in Lyft in 2015 at a valuation of $2.5 billion, and later added $50 million at the same valuation. The IPO valued Lyft at $24 billion, or $72 a share, though he likely sold it for a bit less than that.
Yeah, a "bit less," like where it's trading now. And since this is Carl Icahn, there has to be a victim. A poor sap who never saw Uncle Carl coming until he was holding his own head in his trembling hands:
Lyft's pre-IPO investors are prohibited from selling shares until a lockup expires 180 days after the offering, and the buyer of Mr. Icahn's stake is subject to that.
The only thing that would make this even more perfect is if that mystery buyer's name rhymed with "Filliam Fackman."
Carl Icahn Sold Lyft Stake Prior to Initial Public Offering [WSJ]