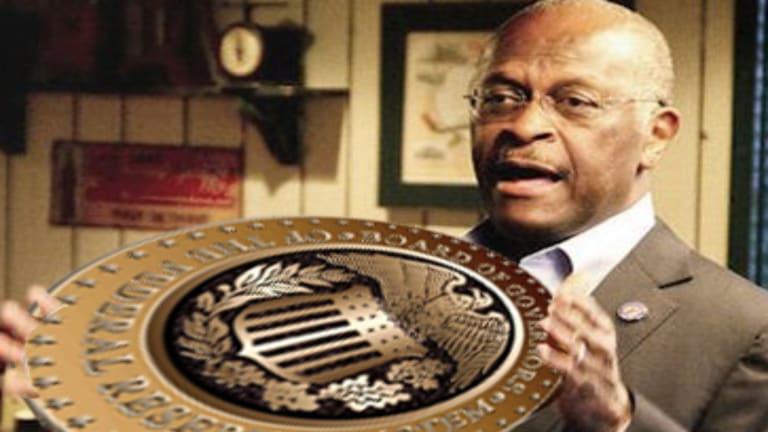 President Trump Manages To Find Even Worse Candidate For Fed Than Last One, Duly Nominates Him
What started as a pretty good joke has become all too real.
The Trump administration is less a presidency and more a high-concept trolling operation. Take, as one of many, many possible examples, its recent nominees to high office. To lead the World Bank, he picked a former Bear Stearns executive best known for brushing off concerns about the credit markets in 2007 who incidentally thinks the World Bank is an arm of the secret globalist conspiracy to subjugate hard-working Americans and their banks. Days after bitching about what terrible personnel advice his Treasury Secretary gives, he decided to hand his top aide a promotion.
But then, the masterpiece: As a sequel to his pick of a totally unqualified political hack to sit on Federal Reserve Board of Governors, he's managed to find an even worse choice for another seat thereon in the form of Herman Cain, a man whose alleged handsiness is exceeded only by his innumeracy. If he's going to be stuck with Jay Powell as Fed chair, he's going to make things as miserable as possible for him.
Mr. Cain was critical of the Fed during and after his campaign for the 2012 GOP presidential nomination. He said the central bank's rate policy "manipulates the dollar" in a 2012 column in The Wall Street Journal….

Cain and Moore have previously advocated, for example, a return to the gold standard. The gold standard periodically compels a central bank that is losing gold reserves to raise interest rates, even if that causes consumer-price deflation and recession. But both men are strong supporters of the president and have indicated they now favor positions in sync with his call for easier policy.
Nor is Trump merely punking Powell and Congressional Democrats with the Cain pick.
White House officials had previously said the nomination wasn't being seriously considered, and some were caught off-guard by the announcement. One official cautioned Thursday that the White House was still interviewing candidates for the Fed board and hadn't concluded its search.
Trump Picks Herman Cain for Fed Seat [WSJ]
Trump's next possible Fed nominee can't understand basic policy issues [WaPo]
David Malpass, Trump's Pick to Lead World Bank, Is Approved [NYT]
Trump Taps Mnuchin's Top Aide to Head Small Business Administration [WSJ]