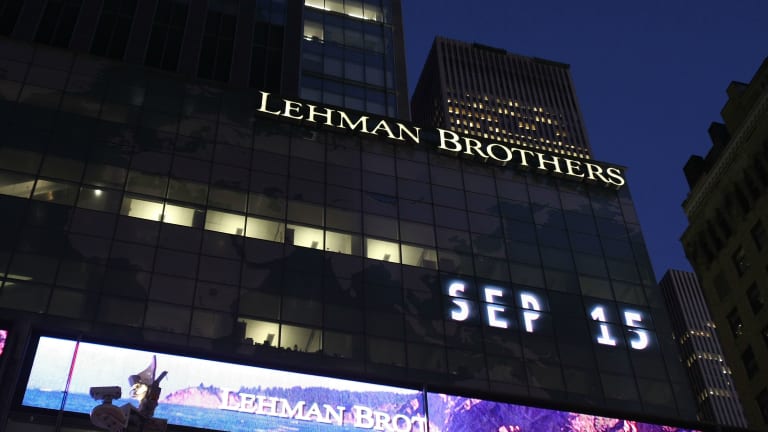 Lehman Brothers: The Musical
An investment bank's strange, not-so-erotic journey from Montgomery to Manhattan.
For most of us, a decade is more than enough time to look back and have a good laugh at the expense of Lehman Brothers, the little investment bank that could until Hank Paulson decided it couldn't. For others, like former Chief Legal Officer Thomas Russo, things are still a little raw.
When a black screen at the Park Avenue Armory rose to reveal a stark glass box, a stripped-down version of Lehman's emptied offices hours before the bankruptcy filing, Mr. Russo let out a gasp: "Oh, my God."
But don't think "The Lehman Trilogy" is a total bummer. The death scene is pretty short. And check out this promotional copy, courtesy of The New York Times.
The central story focuses on the original Lehman brothers — three immigrants from Bavaria who came to this "magical music box called America" in the mid-19th century — and their offspring…. The play follows the ferocious and glittering financial locomotive they rode through American capitalism for more than a century and a half before being roughly dumped off. But that momentous collapse serves as the story's frame, bracketing its start and its finish.
Get your tickets while you can—if you can. And don't worry, London friends: The Trilogy will be distracting you from Brexit soon enough. Not, at three hours, for as long as it could have been, but then how much can one really take?
The "Trilogy" will head to London's West End after it finishes its four-week run on Saturday. This production, directed by Sam Mendes, was adapted from the original, which was written in Italian by Stefano Massini and ran five hours.

Partly reflecting the high-altitude ticket prices ($425 for premium seats), New York audiences have included outsize numbers of financiers, as well as Lehman progeny who went to see the replay of a catastrophic downfall.
Lehman Brothers, a Family Saga, as Viewed by Some Who Lived It [NYT]