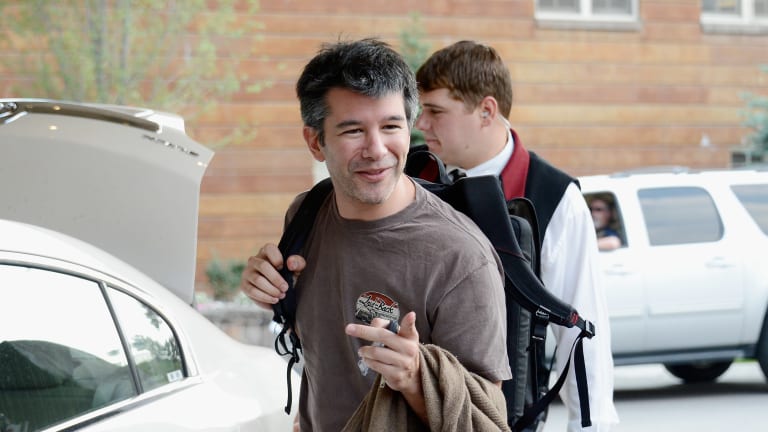 Uber Board Debating Whether To Let Travis Kalanick Ring The Bell At IPO Ceremony In Latest Indication That Uber Is Not Ready To IPO
This is some real good Silicon Valley hubris.
It's been interesting to watch Uber try to strategize its epically awaited IPO in the shadow of the ongoing bumblefuck that has been the Lyft IPO.
There are so many pitfalls to avoid that Uber has seemingly charted a course of being unrepentantly capitalist and hoping for the best. The litany of risk factors on the company's S-1 filing was an almost Monty Python level of prolonged cringe comedy, but then Uber tapped Ken Griffin to make a market for its stock, so it seemed like they  were maybe starting to "get it."
But then, we see this piece of news from Axios about how Uber is looking to handle its opening bell ceremony at NYSE next month:
Axios has learned from multiple sources that there was a board-level discussion about having [its three co-founders: former CEO Travis Kalanick, Ryan Graves and Garrett Camp] join, as opposed to just being invited to the exchange floor, but current CEO Dara Khosrowshahi was noncommittal.
"Noncommital"? No shit?
Of course Khosrowshahi doesn't want Travis on the balcony with him when Uber turns into a public company. Having Kalanick front and center at your IPO ceremony is like having your notoriously slutty high school ex-girlfriend at your wedding, not a great signal to your counterparty that you're ready for this next big step.
Kalanick and his co-founders built something historically large, but they also packed it full of such an insane amount of private equity and ran it so unapologetically culturally amok that they have now made it politically impossible to have them on stage when their creation goes public. It's hard to prove to Wall Street that you're a mature $100 billion company if you're not certain that the founder isn't going to yell "Boober!" before he rings the bell.
The mere notion that Khosrowshahi would have to consider inviting these guys to stand next to him after he's spent so much time deftly untangling them from the company so that it could IPO before the window of interest closes, is peak Silicon Valley hubris.
Just look at why Uber is apparently even having this conversation:
Kalanick raised the issue during a recent board meeting discussion of listing day, according to multiple sources, basically asking if the trio would have formal roles in the ceremony. Graves added that he believed they should.
Really, bro? Do you want to jump into a lactation room with the boys and talk this over some more?
But look who's on Travis' side:
Benchmark partner Matt Cohler also spoke in favor of their involvement, while adding it also should be clear that Khosrowshahi is now the one in charge.
Classic Silicon Valley, the VC guys still love TK, baby! The money guys can overlook the eccentricities of a visionary...wait, Benchmark? Wasn't there a thing?...
Cohler's support was notable, given that Benchmark once sued Kalanick for fraud.
The Uber IPO is indeed going to be the granddaddy of them all, you guys.
Scoop: Uber's co-founders may not help ring the IPO bell [Axios]