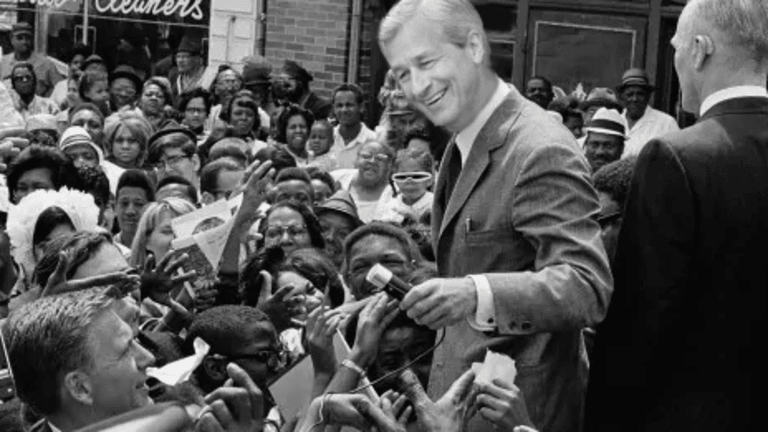 Opening Bell 4.18.19
Three words: Dimon for President.
Start your day with the Opening Bell powered by The Water Coolest. The Water Coolest is the preferred bathroom stall reading material of finance professionals. Sign up for the free daily newsletter.
"SUCCESSION IS MY ONLY MOTHERF*CKIN' OPTION, FAILURE'S NOT ..."
It makes a whole lot more sense why Jamie Dimon was so "confused" by a seemingly innocuous diversity question during a recent hearing on Capitol Hill. Apparently, it had nothing to do with believing diversity is an old, old wooden ship that was used during the Civil War era. Jamie was simply trying not to let the cat out of the bag …
Yesterday JPMorgan announced a shakeup in its senior ranks. Jennifer Piepszak, JPM's current head of cards, and CFO Marianne Lake will switch roles (kinda). Technically Lake's job scope will cover cards as well as auto and home. Piepszak will also join Lake on the operating committee.
Why?
Well, Dimon is getting any younger. In fact, he said last year that he's got about five years left in the tank. And it certainly isn't lost on the Wall Street veteran that there has never (let that sink in) been a female CEO at one of the top-tier US financial institutions.
From a personnel perspective, the move makes sense. It will give Piepszak an opportunity to take on a more public role and allow Lake to lead a business line. Dimon has gained a bit of a reputation for high profile shakeups which create more well-rounded execs.
Of course, with a deep bench (of mostly Ivy league educated males), there is no guarantee that either of these lady bosses will find themselves in the driver's seat of the largest bank in the US. But one thing is clear, the nod certainly won't hurt JP's chances of retaining Lake whose name was thrown around for the Wells Fargo CEO job.
JP Morgan names new CFO, and Marianne Lake moves to top consumer lending role  [CNBC]
IN OTHER NEWS
- Pinterest and Zoom are both making highly anticipated public debuts today
- The US and China are planning two more rounds of trade talks
- Shocker, Samsung's foldable phone sucks
Sign up to receive The Water Coolest. Blue-chip daily business news delivered to your inbox every AM.