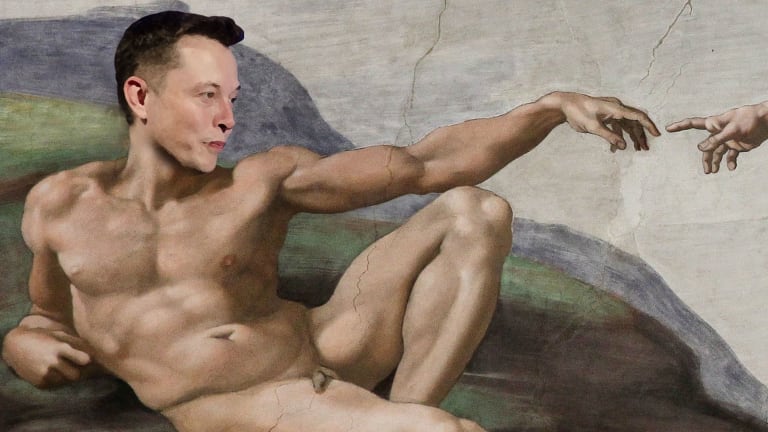 Opening Bell 4.22.19
Don't Be a Menace to South Fremont ...
Start your day with the Opening Bell powered by The Water Coolest. The Water Coolest is the preferred bathroom stall reading material of finance professionals. Sign up for the free daily newsletter.
JUST CHILL OUT, MAN
As part of an ongoing battle between founder Elon Musk and a group of vocal short sellers, Tesla is pursuing a restraining order against a man it claims has been "menacing" its employees.
According to court documents, Randeep Hothi dangerously swerved his car at a Tesla 3 on the expressway and injured a security guard in a hit and run. Musk claims that Hothi has a history of trespassing on Tesla property. Of all the transgressions though, the one Elon is likely most upset about is this guy being mean on Twitter.
Randeep, his brother, and a group of short sellers frequently tweet about Tesla's shortcomings using the tag $TSLAQ. The Musk man's company claims that Hothi's actions could cause "great and irreparable" harm to the company. Which must be a euphemism for vehicular manslaughter.
Et tu, Martin? 
This isn't the only run in Elon and Co. have had with "sabotage." Back in June, after an announcement leaked stating that Tesla was scrapping or reworking 40% of its raw materials at its Nevada Gigafactory, news broke that Martin Tripp (according to Musk), an assembly worker at Tesla's factory, had spread the story.
After suing Tripp for $167M, citing "extensive and damaging sabotage," an anonymous tip was submitted to local law enforcement claiming that Tripp was planning a violent attack at the factory.
Sh*t is getting real
Beefing with a hater (or a British rescue diver) is one thing, but squabbling publicly with a key supplier is another thing. And that's just what Elon has been doing as of late with Panasonic, the maker of its lithium-ion batteries. Recently Panasonic took to the airwaves to indicate it was not increasing production due to sales concerns. Shots fired.
In a move that's risky even by Musk's standards, the prolific tweeter took to the internet to air his grievances with his partner on the Tesla Gigafactory.
Maybe the $TSLAQ crew is onto something ...
Tesla Takes Short Seller to Court, Saying He Menaced Its Workers [Bloomberg]
IN OTHER NEWS
- It just got personal between Zuck and the FTC
- MedMen did not have a great 4/20
- Tesla is cutting its board down to seven members
Sign up to receive The Water Coolest. Blue-chip daily business news delivered to your inbox every AM.